Thursday Night Football Preview: Miami Dolphins vs. Buffalo Bills
We are now into the second half of the 2012 NFL season and what better way to kick off week 11 than an AFC East match-up as the Miami Dolphins swim into Buffalo to take on the Bills. The Dolphins have relied heavily on their defense thus far, while the Bills continue to be a question mark team as a whole. This is a must win game for both teams if they want to stay alive in the hunt for the divisional title as well as the playoffs.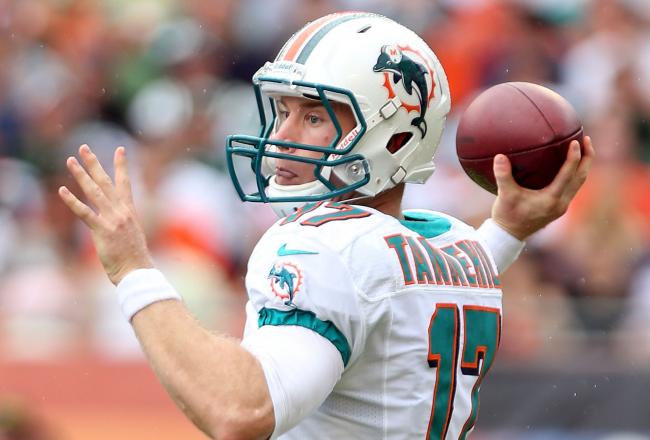 Ryan Tannehill has started to look like an NFL quarterback as of late. He is averaging around 200 yards per game, but really needs to cut back on his interceptions and isn't putting up many touchdowns. On paper, Tannehill looks to have a good match-up going against the 21st ranked Bills defense, but gut feeling says the Bills secondary shows up at home this week. Tannehill should only be used in an emergency situation due to bye week or injury. After being benched last week after a fumble, Reggie Bush should bounce back and be the main play-maker for Miami. Buffalo's run defense has been putrid to put it nicely, and Bush should be able to take advantage of that glaring weakness. He should still be the primary back, even though Daniel Thomas and Lamar Miller will see their share of carries as well. Brian Hartline and Davone Bess will try and stretch the field, but should only be started in super deep leagues. Sleeper this week for the Dolphins is tight end Anthony Fasano. Surprisingly, he ranks 3rd on the team in receptions. This may be a game where Tannehill checks down a lot, and Fasano could be the main benefactor.
Ryan Fitzpatrick continues to be an up and down quarterback. One minute he is driving the team down the field looking like a pro bowler, and the next he is throwing three interceptions in less than three minutes. Fitzpatrick is still a borderline starter for fantasy, and has a decent match up this week against the 28th ranked Dolphins pass defense. C.J Spiller will be the focal point for the offense this week with Fred Jackson already ruled out for this game with a concussion. Even though the Dolphins rank 5th against the run, Spiller will be productive, be it rushing or in the passing game. After calling out coach Chan Gailey for being too positive about the team losing, Stevie Johnson will look to circle the wagons, so to speak. Fitzpatrick will be targeting him a ton and Johnson should be a motivator for the rest of the team. Donald Jones has been a sneaky start opposite Stevie Johnson. He is 2nd on the team in receptions. Sleeper for the Bills this week is rookie wide receiver T.J Graham. The Bills traded up in the draft this past year to get Graham, and the reasoning is starting to show. T.J. hasn't seen the field much, but he is getting more and more looks each game, especially when it comes to home run or deep ball targets. Wouldn't be a surprise if he had a huge catch or two and possibly a touchdown.
Prediction: The Dolphins have won three of the last five games against the Bills on their home field. Meanwhile, the Bills should be out to make a statement at home. Buffalo will rely heavily on C.J. Spiller throughout the game. The #Billsmafia will be rockin' the Ralph for this prime-time home game, which could cause some problems for the rookie Tannehill. Bills edge this one out in a close one.
Bills– 17 Dolphins– 14
Writer for Gridiron Experts. Die hard Buffalo Bills fan. I play in as many fantasy football leagues as time permits. I am also an avid collector of comics, vintage toys and vinyl.