Thursday Night Football Preview: Indianapolis Colts vs. Jacksonville Jaguars
The week 10 Thursday Night Football match-up is one that I'm sure most fantasy football owners circled on their calendar as a fantasy snooze fest, but it could actually be a good game. The Colts trot into Jacksonville looking to continue their push for a playoff spot, while the Jaguars are just looking to win a game. Will Andrew Luck continue his dominant statistics, or will the Jags actually pull the upset? Lets kick it off!!!!
Andrew Luck has been amazing thus far, surpassing the play that everyone thought they would get from him. He has worked his way into an every week starting quarterback for fantasy purposes and this week is no exception. He should be able to control this game and do whatever he wants against the 27th ranked Jags defense. Vick Ballard should get the majority of the rushing work for the Colts as Donald Brown is still a little nicked up. Ballard is a solid start this week as an RB2 or flex option. Reggie Wayne could easily finish the season as the number one fantasy wide receiver. He should continue his production this game, but I wonder if they play him a little less if the Colts get ahead in the game pretty quick. T.Y Hilton has emerged as a great option for Indianapolis. He should have an increased roll this week as Donnie Avery is questionable for Thursday night due to a hip injury. Sleeper for the Colts this week is tight end Dwayne Allen. He has put in a pretty impressive season so far, and has seen more snaps lately as a result of Coby Fleener being injured. Allen really helps out in the short passing game and seems to be more of a possession receiver, which makes him a decent option this week in PPR leagues.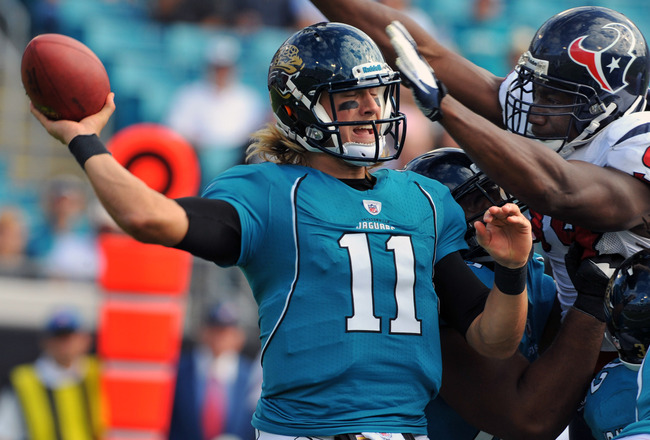 Blaine Gabbert will be looking to win only his 2nd game of the year. This could be a good opportunity for him to really chuck the ballaround this week. The Colts defense is ranked 11th so it might be a challenge, but the Jaguars will most likely be down and have to throw a lot. Gabbert isn't worth starting in any fantasy league at this point. Rashad Jennings has been a great pickup for most fantasy owners and that should continue this week. The Colts rank 25th against the run, so Jennings could get a lot of work, and be productive doing it. Cecil Shorts and Justin Blackmon look to keep the offense going down the field, but they haven't exactly lit up the scoreboards with stats, and its hard to do when Captain Gabbert can't get the ball to them. They should only be started as a last minute, emergency option. Sleeper starter for the Jaguars is Josh Scobee. Thats right, this team is so bad the kicker may have to come through for them. Scobee has the leg to make 50 yarders look like chip shots. If the Jacksonville defense shows up, Scobee could be a difference maker.
Prediction: The Colts should be able to dominate this game pretty easily. Andrew Luck will dictate the pace of the game. The Colts should be able to get an early lead, and then let Vick Ballard grind down the clock. The Jaguars really don't have any huge play makers with and for will have to rely on Rashad Jennings and their defense to be competitive in this one.
Colts 20 Jaguars 9
Writer for Gridiron Experts. Die hard Buffalo Bills fan. I play in as many fantasy football leagues as time permits. I am also an avid collector of comics, vintage toys and vinyl.