How to Assemble the Perfect 2016 PPR Roster
Let's face it, we all enter each fantasy football draft with that impossible dream- that every guy that we are focused on will somehow fall into our laps and we'll close out the draft having accomplished every fantasy owner's dream: The Perfect Draft.
It never quite works out that way, but hey, that's what daydreaming is for. Although it's not any more likely to happen in 2016 than it was in the past, what if we tried to envision the scenario where all those things actually do fall into place, and you managed to get your target in all 16 rounds?
Well, your dreams are about to come true. Using ADP data from our good friends at Myfantasyleague.com and assuming for a 16-round draft in a league with 12 franchises using a PPR starting lineup of 1 QB, 2 RB, 3 WR, 1 TE and 1 flex (RB/WR/TE), I have assembled a roster that can realistically be assembled drafting from the middle to the end of the draft order.
You might need a couple of breaks for players to fall to you in this draft, but utilizing the ADP and having access to Gridiron Experts updated projections can give you the edge you need to put a championship-caliber roster like this together.
Let's take a look at the 2016 perfect draft.
David Johnson (RB)
Round 1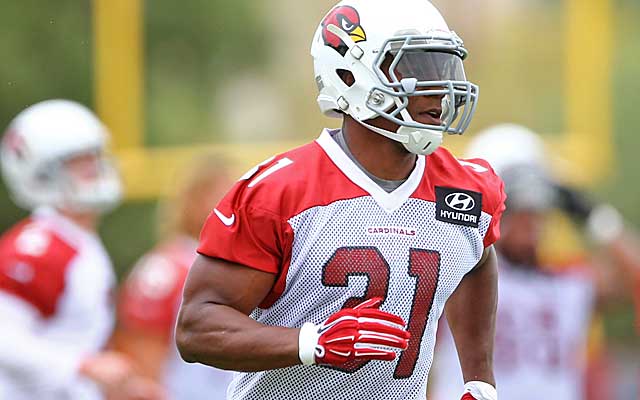 The typical approach in a PPR draft is to attack the safer wideouts early. Nothing wrong with that approach, but in this scenario, we miss out on the elite wide receivers available at the top of the draft and instead elect to attack a more valuable asset- a pass-catching, every-down running back. As an under-utilized rookie, Johnson showed a lot of big-play ability and a nose for the end zone. When Bruce Arians finally put him in as the every-down back, Johnson was tremendous, averaging a hair under 26 fantasy points per game from Week 13-16 and helping secure many fantasy titles.
Now that he's entering the 2016 season as the starting running back, and considering the lack of depth at the running back position, Johnson should be in the No. 1 overall pick conversation. There is some talk of the Cardinals utilizing a committee, but that goes against Arians' history of favoring three-down backs. Johnson looks like an every-down starter for an elite offense, and that gives him tremendous fantasy value.
Dez Bryant (WR)
Round 2
Clearly, an argument can be made for scooping up an elite RB in Round 1, as runners are a much more precious commodity in fantasy football. But a player who has been an absolute beast in three of the past four seasons is being overlooked. Coming off of an injury-marred 2015 season, Dez Bryant is regularly sliding into the second round. But with QB Tony Romo back and the threat of talented No. 4 overall pick RB Ezekiel Elliott now in the backfield, a healthy Dez Bryant looks like a good bet to return to his usual tremendous output. Take a look at Byrant's last three 16-game seasons:
| | | | | | |
| --- | --- | --- | --- | --- | --- |
| Year | Targets | Catches | Yards | TD | Rank |
| 2012 | 138 | 92 | 1382 | 12 | WR4 |
| 2013 | 160 | 93 | 1233 | 13 | WR7 |
| 2014 | 136 | 88 | 1320 | 16 | WR4 |
These are elite numbers, and as long as the Dallas offense can stay healthy, there's no reason to think that Bryant can't return to his usual play near the top of the WR pecking order. Bryant is a fantastic value that is regularly slipping into the top half of Round 2.
Randall Cobb (WR)
Round 3
After 
Jordy Nelson
was lost for the season, Cobb transitioned to Green Bay's WR1 spot. Obviously, the results weren't inspiring, and the Packers offense tailed off badly last season. But now that Nelson is back to take those top cornerbacks, Cobb has a real shot at bouncing back and putting up his usual solid numbers.
In the three seasons that Cobb and Nelson have started together, Cobb averages an 87/1167/11.6 slash and has acted as Green Bay's primary red zone target. Cobb missed ten games in 2013 but was on pace to finish as the WR8- exactly where he ended the 2014 campaign ranked, after a WR16 finish in 2013. That's consecutive top-10 wide receiver finishes, and three straight years in the top 16.
Cobb is also Green Bay's primary red zone target, and despite the poor 2015 showing, still finished fifth in the league with 25 red zone looks last season. With Jordy Nelson back, Randall Cobb looks primed to have a nice bounce back season and looks like a good candidate to approach WR1 numbers once again.
LeSean McCoy (RB)
Round 4
It can be very appealing to go with a third consecutive elite pass-catcher here, as receivers like Julian Edelman, Jeremy Maclin, and Donte Moncrief would all make excellent picks here too. But in this scenario, another workhorse, pass-catching running back is just too valuable to pass up.
Limited to 12 games in 2015 while splitting carries, McCoy still rushed for 895 yards and caught 32 passes and his 15.1 points per game figure tied Doug Martin for 11th among running backs. When you take last year's numbers and apply them out to 16 games, Shady's 241.6 PPR points pace would have been good enough to finish as the RB5.
With Karlos Williams suspended for the season's first four games, there's now a much better chance that LeSean McCoy is going to surpass 20+ touches per game and could get more goal line looks early on. To us, McCoy quickly looks like a top-10 running back this season, and that's a rare find in the fourth round.
Eric Decker (WR)
Round 5
The re-signing of QB Ryan Fitzpatrick puts to rest any concerns that Decker is about to suffer a massive drop off. This concern caused Decker's ADP to slide well beyond the range of his production, which has been remarkably consistent.
| | | | | | | | |
| --- | --- | --- | --- | --- | --- | --- | --- |
| Year | Team | Starts | Targets | Rec | Yards | TD | Rank |
| 2012 | | 16 | 122 | 85 | 1064 | 13 | WR9 |
| 2013 | | 16 | 137 | 87 | 1288 | 11 | WR9 |
| 2014 | | 15 | 114 | 74 | 962 | 5 | WR26 |
| 2015 | | 15 | 132 | 80 | 1027 | 12 | WR13 |
Julian Edelman and Jeremy Maclin also look like appealing options in the fifth round, but of the three, Decker has only missed two starts in three seasons, and appears to be capable of quality production regardless of who is at quarterback.
By drafting another productive and safe receiver, we have now assembled a starting lineup consisting of two top-7 running backs and three top-25 wide receivers- all of whom should average north of 15 PPR points per week.
Tyler Lockett (WR)
Round 6
There are a number of really good wide receivers typically still available in Round 6, but in this scenario, we are going with the upside play in dynamic second-year pass-catcher Tyler Lockett. Despite being a rookie in Seattle run-first scheme, Lockett scored eight total touchdowns last year and is primed to enter year two with a much bigger role.
According to NFL.com's Matt Harmon, Lockett's Reception Perception numbers stood out as elite and Harmon thinks that Lockett is on his way to becoming one of the top young wideouts in the NFL. It's also important in drafts to take calculated risks. With the first five picks shaping up to be an excellent starting lineup, Lockett's upside is too high to pass on.
Running backs like Gio Bernard and DeMarco Murray are appealing here, as are all three members of Arizona's receiving corps. But since we already secured the best player in the Cardinals lineup in Round 1,  Lockett's potential breaks the tie.
[wlm_nonmember]
Continue Reading Jody Smith's 16 Round PPR Value Article
[/wlm_nonmember] [wlm_ismember]
Danny Woodhead (RB)
Round 7
Despite accumulating only 335 rushing yards, Woodhead's receiving prowess powered him to an overall RB3 finish in 2015. Woodhead led all running backs in targets (107) receptions (81) and receiving yards (756.)
Ignoring his 2014 campaign, where Woodhead was limited to just three games, he's averaged 78.5 reception and 8.5 touchdowns since signing with San Diego- a robust 14.72 PPR points per game.
Essentially, Danny Woodhead has two RB1 finishes in two full seasons with the Chargers. The fact that Ken Whisenhunt is once again San Diego's offensive coordinator, combined with Melvin Gordon's struggles as a rookie mean Woodhead should once again be a significant fantasy contributor in 2016- and one that comes with a severely discounted mid-round draft value.
DeSean Jackson (WR)
Round 8
Jackson was limited to eight games last season, but still averaged over 17 yards per reception, and put up a points-per-game pace that would have exceeded 200 for the season. Entering a contract season, D-Jax will be extra motivated to showcase that big-play ability in the hopes of securing a lucrative multi-year deal in the offseason.
Jackson is certainly not the most consistent weekly producer, but if he stays healthy, he's a lock to have several games north of 20 points. It's that big-play potential that make Jackson the ideal bye week replacement, or player that can be flexed in favorable matchups- like the six games on the schedule with those shoddy NFC East secondaries.
 Charles Sims (RB)
Round 9
This might surprise you, but in PPR leagues, Charles Sims was the RB16 in 2015. Sims didn't command even half of the touches that his more-heralded teammate Doug Martin got, but Sims was arguably a more effective player last season.
Both Bucs backs averaged a nifty 4.9 yards per tote, but Sims was much more involved as a receiver, catching 51 of 70 targets for 561 yards and four receiving touchdowns. While Martin did have significantly more rushing yards than Sims in a contract year, there's persistent speculation that Sims showcased enough talent to warrant more overall involvement in the 2016 offense.
Martin has also missed 15 games over the past three seasons. A lingering injury combined with a capable replacement means that Charles Sims looks like a high ceiling, mid-round value. It also gives our dream team four very capable pass-catching backs, and that gives us the luxury of holding off on runners and attacking other positions as the draft winds down.
Philip Rivers (QB)
Round 10
Round 10 is the perfect spot to attack the dearth of talent that makes up an incredibly deep quarterback class. While other people began grabbing QB's like Cam Newton, Aaron Rodgers and Russell Wilson six or seven rounds ago, savvy fantasy leaguers can still lock up a top-10 signal-caller as late as the tenth round.
Top-1o fantasy QB is where Rivers has ranked in six of the past eight seasons. Dating back to 2008, Rivers has averaged over 4,400 passing yards and 30 touchdown tosses per season. Back in 2013, under Ken Whisenhunt, Rivers had the second best numbers of his career and boasted a 32 to 11 TD-to-INT ratio. For 2016, the Chargers will also have an improved supporting cast surrounding their 34-year-old signal-caller.
On top of the solid production, Rivers has also started all 16 games for 10 straight seasons. Philip Rivers is one of the top values in fantasy football this season and makes a fantastic prize for owners smart enough to employ the "wait on QB" draft strategy to perfection.
Dwayne Allen (TE)
Round 11
Because we're eyeing a much safer tight end in another round or two, we're going to take a chance on a potential top-10 player here in Round 11. Now that former teammate Coby Fleener is plying his trade in New Orleans, Allen will now have a much bigger role in the Indianapolis offense.
Before last season, that Colts offense led by Andrew Luck was one of the most potent attacks in the league. With Luck healthy once again, Indy's passing attack should bounce back- and Allen is going to be a problem for defenders who will be forced to account for the Colts' talented receiving corps.
Allen has shown to have a nose for the end zone- eight of his 29 receptions in 2014 were for scores. Without Fleener in that area, Allen should remain the primary goal line target for an offense that's sure to spend plenty of time in the red zone. But for Dwayne Allen to become a TE1, he's going to have to stay healthy- something he hasn't done since his rookie campaign. That's why we'll hedge our bet with a safer option in a round or two.
Tony Romo (QB)
Round 12
A good general rule is that if you're the last owner to select a starting quarterback, be the first team to grab a backup. Quarterback so incredibly deep this season, that it's possible to wait until the latter part of a draft and still walk out with two QB1's.
Like Philip Rivers, Tony Romo is being undervalued in 2016. Fantasy owners often have short-term memories, and that means they are overlooking the solid production that Tony Romo has provided before his injury-marred 2015 season. From 2011-2014, Romo averaged 4,159 yards and 31 touchdown passes per year.
With a healthy Dez Bryant back, and the threat of No. 4 overall pick Ezekiel Elliott now in the backfield, Romo should return to fantasy relevance once again. Romo's Week 7 bye also compliments San Diego's Week 11 bye, and means that we can start Romo against Baltimore's woeful secondary while Philip Rivers is off.
 Jason Witten (TE)
Round 13
In terms of upside and health, Witten is the opposite of Dwayne Allen. Witten is a steady scorer with a somewhat limited touchdown ceiling, but who has played all 16 games in 12 straight seasons.
Incredibly, Witten has rattled off 12 straight seasons as a top-10 fantasy tight end- a remarkable feat.
Even when the Dallas passing game was severely off-track last season with injuries and inconsistent, mediocre quarterback play, Witten still topped 100 targets without committing a single drop. That's a fantastic accomplishment for an NFL tight end, much less one that was playing in his 13th season.
Despite being 34-years-old, Witten hasn't shown signs that he's slowing down too much. With QB Tony Romo back under center, Witten should have another solid season as Romo's most trusted outlet receiver.
Chris Hogan (WR)
Round 14
This late in the draft, and after securing a solid nucleus, it's time to start taking some high-ceiling players. Nobody has been quite as good as Patriots head coach Bill Belichick at taking another team's underused or underperforming players and turning them into productive, every-down players. Corey Dillon, Randy Moss, Wes Welker and Danny Woodhead come to mind as prime examples of Belichick's magic ability to turn another team's castoffs into treasure.
With only 87 career catches in three pro seasons, Chris Hogan could be the next shrewd free agency move that coach Belichick makes that fits that bill. Despite taking a pay cut, Danny Amendola has been rumored to be a potential preseason casualty. His departure would open the door for Hogan to be a productive player as the opposition worries about Rob Gronkowski, Martellus Bennett, Dion Lewis and Julian Edelman.
Even if he's relegated to WR3 status for New England, Hogan should still see enough targets to far surpass his career high of 41 receptions. This late in a PPR draft, guys that can haul in 50 or more balls are exactly the type of potential depth that you want to acquire.
Paul Perkins (RB)
Round 15
Rashad Jennings has been talked up as a sleeper lately, but the fact is that Jennings is a 31-year-old running back who has had one healthy season in his entire career. Jennings is probably best utilized in a 15-touch role, which frees up other backs to get on the field quite often. Often enough to showcase their talents.
Perkins is one of my favorite sleepers of the 2016 season. At UCLA, Perkins showcased terrific one-cut ability and speed and was an underrated inside runner. He's been favorably compared to quality fantasy backs like Devonta Freeman and Duke Johnson.
Perkins might not have much of a role early for this potent Giants attack- but Ben McAdoo is the new head coach in New York, and he won't be as opposed of playing rookies as Tom Coughlin was. I think it's just a matter of time before Rashad Jennings gets hurt, or simply benched, and Perkins flashes that ability and becomes a potential star.
Mike Wallace (WR)
Round 16
After a forgettable one-year stint in Minnesota, Wallace's fantasy value has plummeted as quickly as his numbers did last year. The fact is, Wallace has always been a deep-threat speed guy, and he was a terrible fit in an offense with the weak-armed Teddy Bridgewater.
Wallace can still run, and now that he's signed with a Baltimore offense coached by pass-happy offensive coordinator Marc Trestman, Wallace will once again be a potential deep threat for QB Joe Flacco, who has one of the strongest throwing arms in the league.
Torrey Smith has a similar skillset to Mike Wallace and shined for many years in a similar role for the Ravens. If Wallace can even approach the numbers that Smith was accumulating in Baltimore, he's going to have some value in fantasy leagues- and for a draft price so cheap, he might as well be free.
Final Results
| | | | |
| --- | --- | --- | --- |
| QB's | RB's | WR's | TE's |
| Philip Rivers-11 | David Johnson-9 | Dez Bryant-7 | Dwayne Allen-10 |
| Tony Romo-7 | LeSean McCoy-10 | Randall Cobb-4 | Jason Witten-7 |
| | Danny Woodhead-11 | Eric Decker-11 | |
| | Charles Sims-6 | Tyler Lockett-5 | |
| | Paul Perkins-8 | Desean Jackson-9 | |
| | | Chris Hogan-9 | |
| | | Mike Wallace-8 | |
This team might not be perfect, but what it does have is everything a championship-caliber fantasy roster should: A strong starting lineup, quality depth, bye week flexibility and high-ceiling stashes.
There are plenty of different options available in the first half of the draft that could alter the strategy and end up with a much different roster. But as long as fantasy owners are aware of current ADP, stay abreast of the latest news, learn their league mates tendencies, and have a few breaks go their way, it just might be possible to draft the perfect squad this season.
[/wlm_ismember]
.