NFL Power Rankings

The 2018 season has reached the quarter pole, and for the first time, there's some stability among the top teams in our power rankings. The showdown between the Jaguars (no. 3) and Chiefs (no. 2) looks like the NFL's game of the week.
As always, these rankings loosely reflect my current Super Bowl odds.
Los Angeles Rams
Power Ranking: 1
Record: 4-0
Previous Rank: 1
Week 4: Win vs Vikings, 38-31
Week 5: @ SEA
Another week, another convincing win against a quality opponent for the Rams. A visit to CenturyLink Field to face the resurgent Seahawks will be another good test for this team.
Kansas City Chiefs
Power Ranking: 2
Record: 4-0
Previous Rank: 2
Week 4: Win @ Broncos, 27-23
Week 5: vs JAC
The Broncos seemingly had the Chiefs on the ropes in the 4th quarter of their MNF matchup, but blossoming superstar QB Patrick Mahomes brought KC back from a 10-point deficit to remain unbeaten. The Chiefs video-game offense will face its toughest test yet when the Jaguars defense comes to town in Week 5.
Jacksonville Jaguars
Power Ranking: 3
Record: 3-1
Previous Rank: 4
Week 4: Win vs Jets, 31-12
Week 5: @ KC
The Jags were back to where they feel they belong in a dominant Week 4 win against the Jets. Their looming trip to Kansas City provides their best chance yet to prove they are one of the AFC's elite teams.
New Orleans Saints
Power Ranking: 4
Record: 3-1
Previous Rank: 5
Week 4: Win @ Giants, 33-18
Week 5: Monday Night Football vs WAS
The Saints defense finally put together a solid effort in The Meadowlands, and the offense continued to roll, as RB Alvin Kamara was again excellent. RB Mark Ingram, who's now eligible to return from suspension, reportedly met the Saints at the airport in Nola. It will be interesting to see if, and to what extent, he cuts into Kamara's workload moving forward.
New England Patriots
Power Ranking: 5
Record: 2-2
Previous Rank: 6
Week 4: Win vs Dolphins, 38-7
Week 5: Thursday Night Football vs IND
New England's crushing defeat of the Dolphins in Foxborough felt like a return to normalcy for what has otherwise been an unpredictable first quarter of the NFL season. Next, they'll host the better-than-their-record Colts on a short week.
Philadelphia Eagles
Power Ranking: 6
Record: 2-2
Previous Rank: 3
Week 4: Loss @ Titans, 26-23
Week 5: vs MIN
The Eagles had many opportunities to put the Titans away on Sunday, but simply refused, blowing both a two-score lead in the second half and an overtime lead to lose in Nashville. A good Vikings team is next up at The Linc, and it may be time for the loser of that matchup to hit the panic button.
Green Bay Packers
Power Ranking: 7
Record: 2-1-1
Previous Rank: 9
Week 4: Win vs Bills, 22-0
Week 5: @ DET
The Packers were dominant, if a bit underwhelming in their win over the Bills in Week 4. Their Week 5 NFC North tilt in Detroit, against a team that has shown flashes of great potential, will not be a cakewalk.
Carolina Panthers
Power Ranking: 8
Record: 2-1
Previous Rank: 10
Week 4: Bye
Week 4: vs NYG
Carolina had two weeks to prepare for the Giants, which is bad news for the Giants and great news for the Panthers, who need a win to keep pace with the Saints in the NFC South.
Minnesota Vikings
Power Ranking: 9
Record: 1-2-1
Previous Rank: 8
Week 4: Loss @ Rams, 38-31
Week 5: @ PHI
After a close, disappointing loss in L.A., the Vikings visit South Philly staring down the possibility of starting 1-3-1. Both teams need a win, and you can probably take the over (44.5) in a game that could turn into a shootout.
Cincinnati Bengals
Power Ranking: 10
Record: 3-1
Previous Rank: 14
Week 4: Win @ Falcons, 37-36
Week 5: vs MIA
The Bengals overcame the shock of losing TE Tyler Eifert to a gruesome ankle injury early in Atlanta to score the winning touchdown with 12 seconds left in the game. QB Andy Dalton is off to arguably the best start of his career.
Baltimore Ravens
Power Ranking: 11
Record: 3-1
Previous Rank: 13
Week 4: Win @ Steelers, 26-14
Week 5: @ CLE
Even without a fully healthy secondary, the Ravens defense shut down Big Ben and the Steelers receivers after halftime on Sunday night. QB Joe Flacco and the Ravens offense will have their work cut out for them against a much tougher defense when they visit Cleveland this week.
Los Angeles Chargers
Power Ranking: 12
Record: 2-2
Previous Rank: 12
Week 4: Win vs 49ers, 29-27
Week 5: vs OAK
The Chargers struggled to put away the 49ers even though they were without their franchise QB. A Week 5 home game against the Raiders might not be as comfortable for the Chargers as the odds (SD -6) would suggest.
Chicago Bears
Power Ranking: 13
Record: 3-1
Previous Rank: 19
Week 4: Win vs Buccaneers, 48-10
Week 5: Bye
Finally, everything clicked for Matt Nagy's Bears as they annihilated Tampa Bay. The Bears enter their bye week on a high note, to put it mildly, after which they'll travel to Miami.
Tennessee Titans
Power Ranking: 14
Record: 3-1
Previous Rank: 20
Week 4: Win vs Eagles, 26-23
Week 5: @ BUF
In Week 4, Tennessee overcame adversity all game to notch an unlikely signature win against the defending champs. If they can avoid the dreaded "trap game," the Titans have a golden opportunity to move to 4-1 when they travel to Buffalo this weekend.
Atlanta Falcons
Power Ranking: 15
Record: 1-3
Previous Rank: 11
Week 4: Loss vs Bengals, 37-36
Week 5: @ PIT
Coming off a tough loss in an entertaining shootout with the Bengals, the Falcons travel to Pittsburgh in Week 5 for a game that both teams need to win. The scattered thunderstorms in the forecast for Sunday may be the only thing that could prevent both offenses from lighting up the scoreboard.
Pittsburgh Steelers
Power Ranking: 16
Record: 1-2-1
Previous Rank: 7
Week 4: Loss vs Ravens, 26-14
Week 5: vs ATL
Despite the final score, the Steelers defense actually tightened up in the second half against the Ravens. Unfortunately, so did the Steelers offense. Pittsburgh's lack of creativity on both sides of the ball is glaring, and they now host a talented Falcons team in a game that will be considered must-win for both teams.
Washington Redskins
Power Ranking: 17
Record: 2-1
Previous Rank: 17
Week 4: Bye
Week 5: Monday Night Football @ NO
Washington's defense will likely be pushed to the limit in New Orleans on Monday Night Football. Luckily, they'll have had two weeks of rest and preparation for a marquee matchup of two of the NFC's division leaders.
Denver Broncos
Power Ranking: 18
Record: 2-2
Previous Rank: 18
Week 4: Loss vs Chiefs, 27-23
Week 5: @ NYJ
The Broncos pushed the explosive Chiefs to the brink on Monday Night Football. If not for QB Case Keenum and wide-open WR Demaryius Thomas failing to connect on the potential game-winning TD in the final seconds, Denver would be tied for first place in the AFC West, and the Tuesday morning narrative would be much different.
Tampa Bay Buccaneers
Power Ranking: 19
Record: 2-2
Previous Rank: 15
Week 4: Loss @ Bears, 48-10
Week 5: Bye
After a demoralizing loss in Chicago where just about everything went poorly for the Bucs, a Week 5 bye may be a blessing in disguise. With the Fitzmagic fading, Jameis Winston has already been named the team's starting QB for Week 6.
Cleveland Browns
Power Ranking: 20
Record: 1-2-1
Previous Rank: 22
Week 4: Loss @ Raiders, 45-42
Week 5: vs BAL
After not winning for 635 days, the Browns were this close to winning two games in a row. The bitter taste of the controversial defeat in Oakland will largely be forgotten if the Browns can upset the Ravens in Week 5.
Miami Dolphins
Power Ranking: 21
Record: 3-1
Previous Rank: 16
Week 4: Loss @ Patriots, 38-7
Week 5: @ CIN
Unfortunately for the Dolphins, their bludgeoning at the hands of the Patriots is probably more indicative of who they are than the first three weeks of the season. Miami has a chance to prove me wrong against another first-place team this week.
Seattle Seahawks
Power Ranking: 22
Record: 2-2
Previous Rank: 21
Week 4: Win @ Cardinals, 20-17
Week 5: vs LAR
After an 0-2 start, the Seahawks got back to .500 when they escaped Arizona with a win. For better or worse, the drama surrounding contract-year S Earl Thomas is now behind them, though his absence certainly won't help the Seattle secondary against the high-powered Rams offense in Week 5.
Houston Texans
Power Ranking: 23
Record: 1-3
Previous Rank: 25
Week 4: Won @ Colts, 37-34
Week 5: Sunday Night Football vs DAL
The highly-talented Texans finally, barely got their first win of the 2018 season by completing a nice comeback in Indy. They have a chance to make it two in a row when they a host a Cowboys team whose offense should struggle to move the ball against them.
Indianapolis Colts
Power Ranking: 24
Record: 1-3
Previous Rank: 23
Week 4: Loss vs Texans, 37-34
Week 5: @ NE
Despite a huge day from QB Andrew Luck, the Colts turned a 28-17 halftime lead (and a 34-31 OT lead) into an OT loss against the division rival Texans. Luck will need another huge day if the Colts have any chance of getting another lead to blow in Foxborough.
Dallas Cowboys
Power Ranking: 25
Record: 2-2
Previous Rank: 27
Week 4: Won vs Lions, 26-24
Week 5: Sunday Night Football @ HOU
QB Dak Prescott and the Dallas receiving corps finally put together a game good enough to complement RB Zeke Elliott's consistent excellence. They'll be challenged to do it again when they visit Houston with the Governor's Cup on the line.
Detroit Lions
Power Ranking: 26
Record: 1-3
Previous Rank: 24
Week 4: Loss @ Cowboys, 26-24
Week 5: vs GB
The Lions don't have much time to dwell on a tough loss in Dallas because they host Aaron Rodgers on Sunday. The inefficient under-use of rookie RB Kerryon Johnson after his breakout Week 3 is puzzling.
Oakland Raiders
Power Ranking: 27
Record: 1-3
Previous Rank: 29
Week 4: Win vs Browns, 45-42
Week 5: @ LAC
In Week 4, the Raiders finally closed out a tough game. Though far from perfect, the team's offensive stars finally played well in the same game.
San Francisco 49ers
Power Ranking: 28
Record: 1-3
Previous Rank: 26
Week 4: Loss @ Chargers, 29-27
Week 5: vs ARI
Left for dead after the demoralizing loss of QB Jimmy Garoppolo in Week 3, the 49ers only lost a wildly entertaining game in L.A. by two points. A similar effort would likely be enough to get them a win when they host rookie QB Josh Rosen and the Cardinals in Week 5.
New York Giants
Power Ranking: 29
Record: 1-3
Previous Rank: 28
Week 4: Loss vs Saints, 33-18
Week 5: @ CAR
Though there's little doubting rookie RB Saquon Barkley's ability, every poor performance by the Giants passing game is another chance to question the team's use of the 2nd overall pick on a running back rather than a successor for QB Eli Manning. A stingy Panthers defense will be a tough test for New York's offense.
New York Jets
Power Ranking: 30
Record: 1-3
Previous Rank: 30
Week 4: Loss @ Jaguars, 31-12
Week 5: vs DEN
Rookie QB Sam Darnold and the Jets offense predictably struggled in Jacksonville, but they face a slightly more forgiving Broncos defense this week. The Jets are, surprisingly, early favorites (-1) in Week 5.
Buffalo Bills
Power Ranking: 31
Record: 1-3
Previous Rank: 31
Week 4: Loss @ Packers, 22-0
Week 5: vs TEN
There were few positive takeaways from Buffalo's shutout loss at Lambeau Field. For one: the pass defense acquitted itself well against Aaron Rodgers, especially when you consider that the Bills offense couldn't stay on the field. There were always going to be growing pains along the way for the Bills and rookie QB Josh Allen.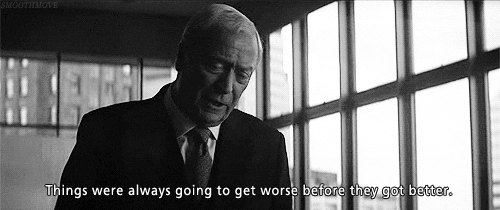 Arizona Cardinals
Power Ranking: 32
Record: 0-4
Previous Rank: 32
Week 4: Loss vs Seahawks, 20-17
Week 5: @ SF
If not for drops by his receivers and a late missed field goal by K Phil Dawson, rookie RB Josh Rosen would have led the Cardinals to their first win on Sunday. The Cardinals may have several more chances to get their first win in 2018.
Follow Matt Foreman on Twitter
Thanks for reading