NFL Free Agency: 32 Team Needs Breakdown
With the NFL free agency period about to kickoff, teams are already scheming and counting their pennies for what should be an exciting week of NFL news. The three-day window for contact and negotiation between clubs and player agents starts today. No contracts can be finalized until the start of the free agency period at 3 p.m (ET) Tuesday.
While many NFL clubs are freeing up cash to make a run at some of the big names in this years crop of available players, other teams are just trying to take care of their own personal before the deadline. Gridiron Experts has complied a 32 team Free agency rundown.
[tabs] [tab title="AFC East"]
Buffalo Bills
Team Needs: OT, LB, TE, WR
Most Important FA Team Needs to Re-sign
Jairus Byrd. After not slapping Byrd with the franchise tag, the Bills will let him hit the open market. There is a chance for him to still return to Buffalo but it will be very costly. Byrd is without a doubt one of the better safeties in the NFL and the Bills defense will feel it if he's gone. Da'Norris Searcy would take Byrd's spot if he left.
The Bills don't have many important free agents that they need to bring back so putting together a strong campaign to keep Byrd in Buffalo is the number one goal. Written by: Sean Berenbaum
Potential FA Target
Rodger Saffold. The Bills current starters at LG and RT are Doug Legursky and Erik Pears, who are not exactly players you want to build your offensive line around. Luckily for the Bills, on the market is a offensive lineman coming off a rookie deal in which he played LT, RT and RG, and played well at times at all three positions. Saffold has delt with many injuries in his short career but he has shown to be an above-average player when on the field. The Bills can sign Saffold knowing that he can play almost all positions on the o-line and that he and LT Cordy Glenn will bolster the line for the next great Bills team. Written by: Sean Berenbaum
Hints and Visits
Jasper Brinkley visiting Buffalo Bills
Jameel McClain and Brinkley have both visited the Bills this week; they are clearly looking for a run-down linebacker to complement Kiko Alonso. The Buffalo Bills appear to be in the market for a middle linebacker.
One day after hosting free agent Jameel McClain at One Bills Drive (his next visit is with the New York Giants), the team announced that another free agent linebacker, Jasper Brinkley, is visiting with the team in Orchard Park today… read more
New England Patriots
Team Needs: WR, NT
Most Important FA Team Needs to Re-sign
Julian Edelman. The jury is still out on the Danny Amendola experiment. Yet one thing is for sure, with not having Rob Gronkowski for most of the season Tom Brady and the Patriots were really lacking quality pass-catchers. After not receiving much attention in free agency prior to 2013, the Pats re-signed Edelman to a one year deal. Edelman had a 100+ catch and 1000+ yard season, and should land a multi-year deal. If Edelman were to walk, the Patriots would be left with injury prone Amendola, Gronkowski as well as raw youngsters Kenbrell Thompkins and Aaron Dobson. Not exactly a great receiving core for a team with an elite QB and Super Bowl aspirations. The Patriots and the rest of the league know that Edelman is more valuable to the Patriots than any other team and that will effect the market for him. It would be mutually beneficial for New England and Edelman to strike a deal and continue having Edelman catching passes from Tom Brady. Written by: Sean Berenbaum
Potential FA Target
Paul Soliai. With the Dolphins likely having to choose between Randy Starks and Soliai, with Starks the likely winner, Soliai looks to hit the market and the Patriots should be hot on his trail. Soliai has been a consistently solid run stopper for the Dolphins the past few years and with incumbent DT's Vince Wilfork and Tommy Kelly coming off season-ending injuries, the interior line is a glaring need for the Patriots. While there are much higher-quality DT's available, such as Henry Melton and Starks, the Patriots likely won't want to give them the long contracts they will desire, making Soliai a nice short-term stop option. Written by: Sean Berenbaum
Fans Want:
Aqib Talib reportedly wants big contract from Patriots
The New England Patriots and free-agent cornerback Aqib Talib are at an impasse. Owner Robert Kraft has stated his reluctance to shell out big bucks for a player who has battled hip injuries off and on over the past few seasons…Read More
Miami Dolphins
Team Needs:OL, DL LB, TE
Most Important FA Team Needs to Re-sign
Chris Clemons. Clemons has quietly been one of the better cover safeties in the NFL over the last few years. He and Reshad Jones make one solid combo in the league. Clemons is still only 28 and has plenty of good football in him, and he will be sorely missed if the Dolphins let him walk due to his long range coverage ability that only a few safties in the league can offer. Written by: Sean Berenbaum
Potential FA Target
Branden Albert. The franchise tag deadline came and went without the Chiefs locking up Albert for a second year in a row, officially making the star tackle a free agent. This wouldn't be the first off-season in which the Dolphins showed interest in Albert. They tried trading for him last off-season. With Miami's offensive line in shambles, Albert would be a big sigh of relief. Written by: Zach Greubel
Miami is the Bess
Browns announced they released WR Davone Bess, a comeback home contract may be an easy move for the Dolphins and one that both parties would be happy to arrange.
New York Jets
Team Needs: QB, WR, TE, RB, OL
Most Important FA Team Needs to Re-sign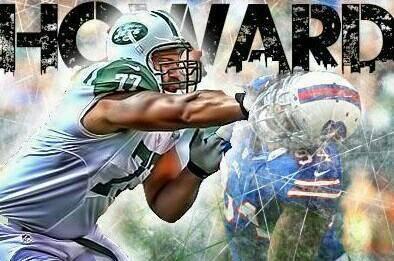 Austin Howard. If the Jets are going to develop Geno Smith, they need to keep him upright. Howard allowed just two sacks in 16 games at right tackle in 2013 and his price tag shouldn't be outrageous. While Howard isn't great at run-blocking, New York needs to protect Geno, particularly on the outside of the line. Howard has stablized RT for the Jets over the last few seasons and the team would be wise to lock him up at a favorable price.
Written by: Jason Willan
Potential FA Target
Emmanuel Sanders. Upgrading the receiving corp is among the Jets' top priorities this offseason, and it was reported in February that the team really liked Sanders and Jeremy Maclin. With Maclin sticking in Philadelphia, Sanders seems likely to be one of New York's top free agent targets at receiver. The Patriots signed Sanders to an offer sheet last year, demonstrating a willingness to give up a third-round draft pick for him. After the Steelers matched New England's offer, Sanders had the best season of his career in 2013 with 740 yards, 6 touchdowns, and just two drops on 112 targets. The Jets have a lot of needs to fill, so I don't think they will break the bank on a free agent receiver, and I expect them to target pass-catchers early in the draft. But a solid veteran option like Sanders will go a long way in supporting the development of Geno Smith.
Written by: Jason Willan
Rumors and Facts
Profootballtalk reports there's still a chance Mark Sanchez remains with the Jets on a "revised deal."
New York Jets release WR Santonio Holmes -Link
[/tab] [tab title="AFC South"]
Indianapolis Colts
Team Needs: CB, LB, SS
Most Important FA Team Needs to Re-sign
Vontae Davis. Davis is arguably the best cornerback on the market. He's too valuable for the Colts to give up. An argument could be made for running back Donald Brown but Indianapolis is too heavily invested in third year running back Trent Richardson. The Colts' defense was unimpressive even with Davis. They'd be a lot worse without him. Written by: Zach Greubel
Potential FA Target
Wesley Woodyard. Linebacker isn't exactly a need for the Colts, but current starters Erik Walden and Kelvin Sheppard are below average starters at their positions. Woodyard had a bad 2013, but with multiple prior seasons with productive play, last season should be considered a weird fluke. If the Colts fail to re-sign free agents Vonta Davis and Antoine Bethea, they will likely focus their dollars in the secondary and possibly upgrading their linebackers. Written by: Sean Berenbaum
Overpaying Yet again
Colts signed LB D'Qwell Jackson to a four-year, $22 million contract.
The deal includes $11 million guaranteed. In need of a steadying presence next to Jerrell Freeman, the Colts have overpaid for linebacker help in free agency once again. This time they add a leader and one of the game's most prolific tacklers, but one that is entering his age-31 season, fits better in a 4-3 scheme, and has struggled badly against the run over the last two years. Jackson also had visits with the Titans, Broncos and Dolphins. Jackson is an every-down linebacker, but won't solve Indianapolis' run defense woes. –RotoWorld 
Houston Texans
Team Needs: QB, OT, LB, SS
Most Important FA Team Needs to Re-sign
Defensive end Antonio Smith. Though "the Ninja" is on the wrong side of 30, there is mutual interest in a new deal to stay in Houston with new head coach Bill O'Brien and defensive coordinator Romeo Crennel. Smith was an integral part of Houston's d-line and his prescence played a large part in JJ Watt's dominant play. Smith is also a well-respected, veteran leader who would be a welcomed addition to a new coaching regime, but would have to be willing to take less money to stay with the Texans than he might get on the open market. Written by: Jody Smith
Potential Target
Patriots QB Ryan Mallet. In a very similar fashion to how the Texans acquired Matt Schaub back  in the day from Atlanta, rumors are flying that the team could be yet again lure in the best of the best back up QB in the NFL. Mallet has a lot of potential and has been sitting and learning from Tom Brady. He fits the QB type for Bill O'Brien and has connection to his time in New England. If the Texans pull this trade off they can make their first overall pick with ease by drafting Clowney. The Texans have the first pick in the second round (33rd overall), which would be a very temping trade for New England not to buy into. The Pat's potentially lose nothing and gain a high pick in the deepest draft in the last 10 years. -Written by Mike Rigz
Rumors
Matt Schaub: While NFL Network's Ian Rapoport reports the Browns, Raiders and Jets would be interested in Matt Schaub "if (when)" he is released, there are rumblings the Texans are considering keeping Schaub.
Jacksonville Jaguars
Team Needs:QB, OL, RB, DE
Most Important FA Team Needs to Re-sign
CB Will Blackmon. Blackmon was signed as a free agent in August and ending up having a good year for the Jaguars, rankings as a top 25 corner at Pro Football Focus. The Jaguars have needs all over the field and have a ton of money to spend. Re-signing a solid, veteran defensive back like Blackmon allows the team to focus money of more important areas, like offensive line and quarterback. Written by: Jody Smith
Potential FA Target
OT Eugene Monroe. Jacksonville's offense is a mess, and it's not going to get any better until they address a porous offensive line. Monroe is only 26 and is widely considered the top tackle available on the open market. Since the Jags have a lot of money to spend, it would make sense to invest in Monroe to help protect the new franchise signal-caller they are expected to draft with the number three pick in the 2014 NFL draft. -Jody Smith
Rumors
A league source tells the Florida Times Union that the Jaguars are unlikely to use a first-round pick on a quarterback after re-signing Chad Henne to a two-year contract on Friday. –Link
Tennessee Titans
Team Needs: LB, SS, QB, WR
Most Important FA Team Needs to Re-sign
Alterraun Verner. Verner has been a great home-grown talent in Tennessee, culminating in a career year in 2013. He is looking to get paid like one of the best corners in the NFL, which he might be. Due to the Titan's lack of depth in the secondary, their cornerback unit would go from strength to weakness if Verner does not re-sign. The Titans have the cap flexibility to be able to sign Verner, even at his lofty demands, and keeping him would be the first step in continuing to solidify their promising defense. Written by: Sean Berenbaum
Potential FA Target
Ben Tate. With Chris Johnson likely being cut and Shonn Greene better cast as a back-up, the Titans are going to need a starting running back. Ben Tate can be that guy as he hit the market looking for a starting job after backing up Arian Foster in Houston. Tate has played through a lot of injuries in his short career, but he is still a better bet at maintained health than other free agent running backs like Darren McFadden, Ahmad Bradshaw and Maurice Jones-Drew.
Tate has shown glimpses of his upside but due to the superior talent ahead of him or due to injury, he was never able to prove he could sustain his elite play. Tate will be risky, but most running backs who ever hit the market are. Tate has the age and upside to make signing him worth it for the Titans. Written by: Sean Berenbaum
The Ugly Truth
Titans MLB Moise Fokou graded out among Pro Football Focus' 10 worst inside linebackers both in coverage and against the run in 2013. The Titans will likely target Linebacker help in this May's NFL Draft
[/tab] [tab title="AFC West"]
Denver Broncos
Team Needs: CB, LB, SS
Most Important FA Team Needs to Re-sign
Dominique Rodgers-Cromartie. Yes, Eric Decker is also a free agent this off-season, but Rodgers-Cromartie is their most important piece to bring back. This could be Champ Bailey's last season and their best cornerback, Chris Harris, is coming off a torn ACL injury. Cornerback is arguably their weakest position and they just can't afford to lose Rodgers-Cromartie. Written by: Zach Greubel
Potential FA Target
Jairus Byrd/T.J. Ward. Like biscuits and butter, it just makes sense. The Broncos have many defensive holes to fill, one of them is at safey. Byrd is the best available safety in free agency and Ward is a close second. Either would make a solid addition to Denver's veteran, Super Bowl-contending squad. They're both young, hard-hitting, ball-hawking playmakers. Either one would be a tremendous complement to cornerback Dominique Rodgers-Cromartie, assuming Denver re-signs him. Written by: Zach Greubel
Kansas City Chiefs
Team Needs: OL, WR, TE
Most Important FA Team Needs to Re-sign
Geoff Schwartz. With Branden Albert on his way out of KC and Jon Asamoah and Schwartz as free agents, the Chiefs might have serious turnover on their offensive line. Schwartz took over for Asamoah mid-season in 2013 and played great ball for the entire second half. With a relatively weak guard class in free agency, some team might splurge on Schwartz and the Chiefs cannot afford any luxurious spending due to their cap situation. The Chiefs would be smart to try to restructure some contracts in order to bring back their best offensive lineman from last season. Written by: Sean Berenbaum
Potential FA Target
Dustin Keller. Ever since Tony Gonzalez was traded to the Falcons, the Cheifs have not had a reliable pass catching tight end. Keller is coming off ACL, MCL and PCL tears and will have to take a cheap, one-year deal to prove he can still play. Keller has had productive seasons in the past and could prove to be a gamble worth while for a Chiefs team lacking weapons in the passing game. Written by: Sean Berenbaum
Oakland Raiders
Team Needs:QB, WR, DL, LB
Most Important FA Team Needs to Re-sign
Lamarr Houston. With 69 tackles and 6 sacks in 2014, Lamarr Houston is a must re-sign for the Raiders. Houston has not been shy about letting the press know that he feels like the Raiders are planning on moving in another direction, but in early January, coach Dennis Allen put those thoughts to sleep saying, "We would love to have (Houston) back." Lamarr Houston is a clear leader for the Raiders defense and has not missed a game since starting his career four years ago. This is an easy choice for the Raiders. Written by: Shawn Luskey
Potential FA Target
Eric Decker. To say that the Oakland Raiders need a solidified core of receivers is an understatement. The Raiders haven't had a 1,000 yard receiver since 2005 when Randy Moss broke the mark. The quarterback position is a weak spot for the raiders as well, but if they plan on going anywhere, the raiders need someone to catch the ball. Written by: Shawn Luskey
San Diego Chargers
Team Needs: CB, OLB, DE, OL
Most Important FA Team Needs to Re-sign
Chad Rinehart. With the Chargers already signing middle linebacker Donald Butler to a new contract, they should turn their attention to the offensive side of the ball. Rinehart missed five games early in 2013 with a foot injury, but he was a key member of the offensive line during the second half of the year, starting at both left and right guard. Rinehart was a big reason that Philip Rivers was sacked just 30 times in 2013 after being sacked 49 times the prior season, and Ryan Mathews had the best rushing total of his career thanks in no small part to Rinehart. San Diego needs additional pieces along the offensive front, but retaining Rinehart would keep that group moving in the right direction.
Written by: Jason Willan
Potential FA Target
Captain Munnerlyn or Corey Graham. The Chargers had one of the worst group of cornerbacks in the league in 2013 and it's the position that they need to address the most this off-season. Luckily for San Diego, there are plenty of viable options at corner in this year's free agent pool. While the Chargers probably can't afford to make a run at top tier guys like Aqib Talib and Alterraun Verner, a player like Munnerlyn or Graham would be a more-affordable option that could make a big impact in San Diego's secondary.
Written by: Jason Willan
Sproles homecoming?
Report: Saints releasing Darren Sproles. According to Ian Rapoport of NFL Network, the Saints are cutting Darren Sproles, the 30-year-old pass-catching back who's spent the last three seasons with New Orleans. Charger fans are now hoping a deal can be struck for a return back to the west coast.
[/tab] [tab title="AFC North"]
Pittsburgh Steelers
Team Needs: WR, OL, DL, CB
Most Important FA Team Needs to Re-sign
Emmanuel Sanders. Sanders is coming off what was by far the best season of his career, totaling over 700 yards and six touchdowns. He got lost in the spotlight of Antonio Brown who took the league by storm. Sanders is still young and should continue to blossom opposite Brown and with a better developed chemistry with quarterback Ben Roethlisberger. It may be a little optimistic but the Steelers would be doing themselves a favor by re-signing Sanders. Written by: Zach Greubel
Potential FA Target
Eric Winston. The Steelers are desperate for help on the offensive line and their salary cap situation is horrible. Winston would provide that much needed help and would be relatively cheap. Pittsburgh can't and won't be big spenders during free agency and they usually aren't, but Winston is one player they need to look at. Written by: Zach Greubel
Baltimore Ravens
Team Needs: OL, C, WR
Most Important FA Team Needs to Re-sign
Eugene Monroe. After trading for him mid-season in 2013 and giving away multiple draft picks, the Ravens would be downright stupid to let Monroe walk without a clear replacement at hand. Monroe played like a franchise left tackle when he got traded to the Ravens, so he will ask to get paid like one. The Ravens absolutely have to keep Monroe around, whether it is by Franchise Tag or long term deal, as if they let him walk, their starter at the moment would be unknown commodity Ricky Wagner. Monroe and the Ravens have mutual interest in continuing their relationship but if the money doesn't talk, Monroe will walk.
The Carroll County Times reports free agent LT Eugene Monroe is seeking $10 million per year.
Written by: Sean Berenbaum
Potential FA Target
Anthony Collins. With two good tackles already under contract and other needs, the Bengals will most likely let Collins hit the open market as a quality tackle who can play on either side of the line. The Ravens currently have both of their starting tackles from 2012 hitting the market. It's also looking more and more likely that Eugene Monroe and the team won't reach a deal before Tuesday, meaning they will have to find their LT elsewhere. Collins' position flexibility and the fact that he will come at a cheaper price than Monroe and Branden Albert makes him a player that the Ravens should be targeting. Written by: Sean Berenbaum
Cincinnati Bengals
Team Needs:SS, CB, WR, OT
Most Important FA Team Needs to Re-sign
Michael Johnson. The Bengals chose not to franchise tag their star defensive end before the March 3 deadline. Johnson is now officially a free agent. While Johnson could still sign with Cincinnati, the Bengals will have several key free agents next season they'll need to save money for. It will be a matter of prioritizing for Cincinnati, who lost both offensive coordinator Jay Gruden and defensive coordinator Mike Zimmer to head coaching jobs. Don't be surprised to see their best pass rusher walk. Written by: Zach Greubel
Potential FA Target
Jared Allen. With a lot of cap room and not many roster holes, the Bengals are in a great position in the league. That being said, if they cannot re-sign Michael Johnson, they will have a hole at DE that they would need to fill immediately. Cincy would have a lot of money to spend and would likely be suitors for the top pass rushers in the market, but with Greg Hardy and Brian Orakpo off the market, Jared Allen makes perfect sense for them. He fits nicely in the right end spot and his age should not worry the Bengals as he still has at least a few good years ahead of him. Whether it is re-signing Johnson or targeting Allen and other such top-tier pass rushers, the Bengals are sure to spend money on the D-line this off-season. Written by: Sean Berenbaum
Cleveland Browns
Team Needs: A sense of direction? …. oh and QB, RB, ILB, WR, Coach, GM
Most Important FA Team Needs to Re-sign
C Alex Mack (transitioned)- The only key free agent that the Browns needed to re-sign was premier center, Alex Mack. With Mack receiving Cleveland's tag, he'll return to lead a solid group of blockers. Written by: Jody Smith
Potential FA Target
RB Ben Tate- Cleveland has a solid young defense and an inept offense. The best way to turn around a sluggish offense is with a new quarterback and a solid running game. The Browns are expected to address QB in the draft, so nabbing the top available running back would go a long way into building an all-new offense. Tate showed a lot of heart last year, playing well with broken ribs and Cleveland has a lot of cap room open to signing the young tail back to a lucrative multi-year deal. Another plausible fit for the Browns would be to sign free safety Jarius Byrd, who has has played under new head coach Mike Pettine's scheme with the Bills.- Jody Smith
[/tab] [tab title="NFC East"]
Philadelphia Eagles
Team Needs:SS, LB, DE, WR
Most important FA team needs to re-sign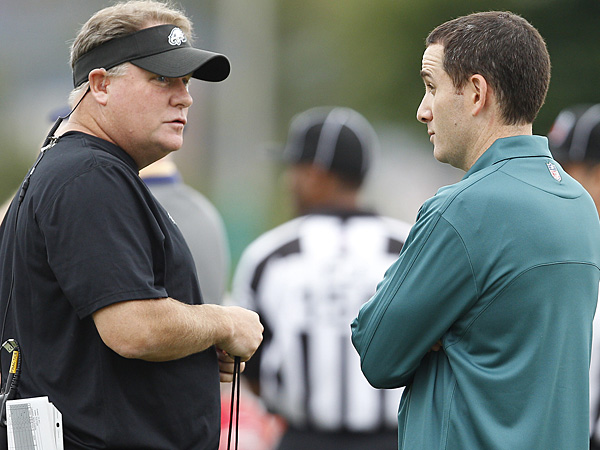 The Eagles have already taken care of business. After re-signing two key offensive lineman the Eagles retained the services of Riley Cooper and Jeremy Maclin. Despite the fact the Eagles are a run-first team in Chip Kelly's innovative offense, the Eagles made the smart move of keeping possible franchise quarterback Nick Foles well stocked with targets. After letting go of Jason Avant, the Birds may have to slash more personal in the next few weeks to free up money for repairing/rebuilding their defense. Written by: Mike Rigz
Potential FA Target
T.J Ward or Jairus Byrd. The safety position is one of the biggest needs for the Eagles this off-season. Philly has some cap room but can't exactly get into a bidding war if they want to add depth. The team could test the waters but we'll likely have to trim more fat somewhere on the payroll. Patrick Chung is as good as gone yet the team may have to also part ways with Brandon Graham, Trent Cole or James Casey to free up cap space. Either Byrd or Ward would make a great fit for the Eagles defensive scheme for 2014. by Mike Rigz
Rumors:
Eagles Showing Interest In Michael Johnson
The unofficial start to the free agency period begins at noon Saturday when clubs are able to enter into contract negotiations with pending free agents. While deals can't be executed until March 11 at 4 p.m., many will be structured over the coming hours… Read More
Dallas Cowboys
Team Needs: DL, WR, G, S 
Most important FA team needs to re-sign
DT Jason Hatcher– The Cowboys are in real trouble with their salary cap, as some projections have them as much as $20 million over the 2014 cap number. That means that some tough decisions need to be made in Big D, and that the vast majority of pending free agents won't be wearing a star on their helmet next season. Dallas needs help all along their defensive front, so if they can somehow free up the cash, it would make sense to try to retain the services of their 31-year old defensive tackle coming off of a career season. Written by: Jody Smith
Potential FA Target
DE Jared Allen. Jerry Jones loves to make big splashes to keep his team on the front pages, but poor cap management has put his club in position where they are unlikely to have any manoeuvrability. However, cutting WR Miles Austin and DE DeMarcus Ware could help free up some money, and if Allen finds the going rate slow for his services, he could choose to sign a short-term deal in his hometown of Dallas, Texas. -Jody Smith
Paycut? Try Me.
ESPN Dallas reports DeMarcus Ware believes he can "get a payday in free agency" if the Cowboys release him. The Cowboys need Ware to significantly slash his $12.25 million salary if they're to have any breathing room in free agency. The Cap situation in Dallas is flat out terrible.
New York Giants
Team Needs:LB, CB, OT, RB
Most important FA team needs to re-sign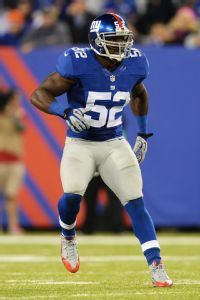 Jon Beason. Despite appearing in just 11 games for the Giants after coming over in an early-October trade from Carolina, Beason was second on the team in tackles in 2013 and solidified the middle of New York's defense. Prior to Beason's arrival, the Giants allowed 36.4 points per game, but once he stepped in at middle linebacker, New York's defense allowed an average of just 18.3 points over the remainder of the season. Beason has a history of injury, but both he and the Giants have expressed interest in structuring a deal that makes sense for both parties. I expect New York to focus on a Beason deal before worrying about some of their higher-priced free-agents-to-be, like Justin Tuck. Written by: Jason Willan
Potential FA Target
Toby Gerhart. The Giants have a few needs this offseason, but we were looking at their chance to have a solid bell cow back. Toby has had some fumble issues in the past, but he can also catch out of the backfield which is a plus for any running back in this league. The Giants have two solid options for a running back in Ben Tate and Gerhart. With 4.7 yards per carry in his career, Gerhart seems like a slightly better option. Written by: Shawn Luskey
Washington Redskins
Team Needs: OL, WR.DL, S, ILB
Most Important FA Team Needs to Re-sign
After signing DeAngelo Hall and Chris Baker, and then placing the non-exclusive franchise tag on Brian Orakpo, the only semi-large name the Redskins need to consider now is inside linebacker Perry Riley. The issue with Riley, however, is if he has the idea of a contract similar to what Dannell Ellerbe received from Miami last year, he's in for a rude awakening. Riley isn't worth $7 million a year. It wouldn't be a surprise if the Redskins were done re-signing their own, although names like Rob Jackson and Darryl Tapp may be lower cost options to keep an ear out for. Written by: Shae Cronin
Potential FA Target
With as weak as the Redskins are at safety, keep an eye on Mike Mitchell and maybe even Taylor Mays – although Mays shouldn't be considered a starter. Linval Joseph has to be the most attractive defensive lineman on the Redskins' radar. Washington will have to pay good money for Joseph, but his youth and versatility make him worth it. Helping to better protect Robert Griffin III next season, available centers such as Evan Dietrich-Smith and Brian De La Puente are both quality starters who would fit in Washington. Some other low-cost names to keep an ear out for are Andre Roberts, who would be a nice slot receiver; Tarell Brown, who would drastically help the secondary; and Vance Walker, who could help provide depth along the defensive line.
[/tab] [tab title="NFC South"]
New Orleans Saints
Team Needs: TE, SS, OL, DL, RB
Most important FA team needs to re-sign
The Saints have been doing more cutting than re-signing lately, yet one name they should look to retain is Joe Morgan. Morgan missed all of last season with a knee injury, but has a lot of skills that would help the team expand the field this year. Morgan would not be a locked roster spot in any means, but his ability to make the deep plays would be well worth the price he is asking for. In 2012, Morgan had 10 catches for 379 yards. Simple math shows that average per catch to be 37.9 yards. Add to that a 33.3% touchdown per catch ratio and you kind of have to take a chance here. Written by: Shawn Luskey
Potential FA Target
Louis Delmas. Delmas has already visited New Orleans after being released by the Lions a few weeks ago. He has also reportedly made a visit to Miami, though has not signed with anyone yet. He's one of the big defensive names in free agency this year and will be able to sign before the free agency period begins on March 11. After cutting Roman Harper the Saints have a big void to fill at safety and Delmas seems like a great fit. Written by: Zach Greubel
The Writing was on the Wall
We hinted that the Saints may clean house in the off-season and that Khiry Robinson could be a brewing sleeper. ESPN analyst Louis Riddick expects the Saints' backfield to be "the Khiry Robinson show" in 2014. Read more about Matt Harmon's article on Assessing the New Orleans Saints' Backfield
Atlanta Falcons
Team Needs: DT, OL, TE
Most important FA team needs to re-sign
Corey Peters. Peters had a career year in Atlanta in 2013, registering 5 sacks and playing great against the run as well. Peters suffered a late season Achilles injury and he may not be ready for camp but that doesn't change his value for the Falcons. They are extremely thin on the defensive line and a versatile player like Peters is something the Falcons can't let walk. Peters should come relatively cheap due to his injury and lack of name recognition so the Falcons would be wise to sign him to a multi-year deal while they can. Written by: Sean Berenbaum
Potential FA Target
Eugene Monroe. After a great second half of the season in Blatimore, Monroe will be a hot commodity on the open market. The Falcons had horrible tackle play in 2013, partially due to injuries. Monroe would make for an instant upgrade. High-end left tackles do make around $11 per year however, and that might be too much to pay while already having Sam Baker on a large contract at the other tackle spot. Pursuing Monroe would still be a wise move because that would take tackle off their list of needs during the draft and allow them to take an elite pass rushing prospect like Jadeveon Clowney or Khalil Mack with the 6th overall pick. Written by: Sean Berenbaum
Carolina Panthers
Team Needs: WR, CB, LB, OL
Most important FA team needs to re-sign
Captain Munnerlyn is one of the few bright spots on a overall weak secondary and he's an important part of Carolina's elite defense. Not only is Munnerlyn a strong veteran player on a relatively young secondary, but his solid play in coverage helped make the Panther's pass rush what it is, arguably the best in the NFL. If Munnerlyn was to walk, the Panthers would be starting Melvin White and Josh Thomas at corner, two players who are not exactly safe to rely on -even though White had a solid 2013 season.
In a free agent market full with good corners, Munnerlyn won't get much attention and that should make it easy for the Panthers to sign him to a multi-year deal while trying to keep as much continuity in their elite defense as possible. Written by: Sean Berenbaum
Potential FA Target
Hakeem Nicks. Nicks has fallen far from grace since his Super Bowl days just two years ago. Injuries and a lack of confidence took Hakeem from elite levels of play to a touchdown-less season in that short span. As a Giants fan that has fully supported Hakeem over the years, I think he needs a fresh start. Heading home to Carolina seems like the optimal decision for him. Cam Newton and the Panthers really need a stud receiver to compliment the ever-aging, Steve Smith. I could really see Nicks being that guy. Paired with an elite running game, Nicks has the potential to flourish in Carolina's system. He doesn't have to be a star, and he'll see a lot of favorable coverages as teams are forced to load the box and contain Newton. Don't be surprised if the hometown kid rejuvenates his career in Carolina next season. (Bob Talbot)
Tampa Bay Buccaneers
Team Needs: LB, DE, C, WR, QB
Most Important FA Team Needs to Re-sign
LB Jonathan Casillas and C Ted Larsen. Tampa Bay is entering a new era with nearly a clean slate. There are no prominent free agents that seem key to Lovie Smith's attempt at restarting a young team that underperformed for a disciplinarian coach. Word is the team would like to have Casillas, 26, back in the fold as added depth to the linebacking corps. Tampa's line has the chance to be one of the better units in the league, so brining back a veteran like Larsen would keep the unit cohesive. The Bucs are actually in a good position to attract free agents. They have cap room, a new coach with a "player's coach" reputation, and with only five draft picks, they'll aggressively approach free agency. Expect the team to be busy beginning March 11th. Written by: Jody Smith
Potential FA Target
Jared Allen. The Buccaneers have plenty of areas that need help, especially on defense. They had a measley 35 sacks in 2013, barely two per game. Allen is getting up there in age but would still be Tampa Bay's best pass rusher by far. He would also make a nice complement to linebacker Lavonte David, cornerback Darrelle Revis and safety Mark Barron. Starting defensive end and free agent Daniel Te'o-Nesheim had just one sack in 16 games played. If Te'o-Nesheim were to go unsigned, Allen would fill that hole like a fist fills a mouth. Written by: Zach Greubel
So.. How's this going to work?
Bucs CB Darrelle Revis is owed a $1.5 million roster bonus on March 13. Also on that date, the final draft pick the Bucs owe the Jets upgrades from a fourth- to third-rounder. If this unlikely trade is going to go down, it's likely going to go down sooner rather than later. The non-contending Bucs could save $16 million by trading away Revis. It's previously been suggested that the Broncos and Patriots could have interest.
[/tab] [tab title="NFC West"]
San Francisco 49ers
Team Needs:SS, WR
Most important FA team needs to re-sign
Donte (W)hitner. The controversial safety is still one of the top safeties in this free agent class and an obvious resign for San Francisco. He's been a staple of one of the most formidable defenses in the NFL for three years. With a projected total of around $12 million in cap space, Whitner is their main priority. Written by: Zach Greubel
Potential FA Target
Jacoby Jones. Looking at the 49er's roster, its hard to find a position in which they are in dire need of.  Jones  would be more of luxury and could take this offense to the next level. With Anquan Boldin and Michael Crabtree, San Francisco has receivers who can win at the catch, but don't have any guys who can blow the top off secondaries with their speed. Jones is by no means a reliable receiver, but that's what Boldin and Crabtree are there for. Jones might be good for only a couple deep attempts per game, but that enough would improve the offense's spacing and production, making Jones a nice and cheap free agent target that the Niners should look at. Written by: Sean Berenbaum
Seattle Seahawks
Team Needs: OT, DE, WR
Most important FA team needs to re-sign
Michael Bennett. Some analysts are calling Bennett the top free agent of the 2014 class. If I were Seattle's GM, I would do my best to keep this Super Bowl unit in tact. Although Bennett's play fell short of his reputation in 2013, he still notched 8.5 sacks and disrupted plenty of passers. It may cost the Seahawks a pretty penny to sign Bennett, but a young roster gives them a lot of freedom when it comes to cap space and free agent moves. Look for Seattle to maintain the "Legion of Boom," in hopes it can make another run to the Super Bowl. (Bob Talbot)
Potential FA Target
Eugene Monroe. Coming off of a 35-point Super Bowl victory its hard to really pinpoint any areas of weakness on the Seahawks starting roster. With Golden Tate potentially walking for a big pay day, WR could be a need for Seattle. But it seems more likely the Hawks would look to revamp the offensive line in free agency and target a wide receiver in a loaded draft class for the position. Despite having success through the air and on the ground, Seattle's offensive line was inconsistent last year. Coming off a season in which he rushed for 100 yards 10 times, Lynch only cracked the century mark three times in 2013. Wilson was forced to scramble a great deal as well. Monroe leads a strong market of offensive tackles. He's a great pass blocker coming off a strong second half performance for the Ravens. Add him to Seattle and the champs could be even stronger in 2014. (Bob Talbot)
Arizona Cardinals
Team Needs: OT, CB, OLB
Team Needs: 
Most important FA team needs to re-sign
Karlos Dansby. After a career year with the Cardinals which saw him lead one of the best defenses in the NFL, Dansby becomes a free agent in which the Cardinals need to keep. Losing Dansby would be a massive loss for a defense that really needs to maintain its production from last year in order to compete for a playoff spot again in 2014. Dansby is 32 years old and has a spotty career record when it comes to producing. Even if he demands it, he likely won't get a lucrative long-term offer from any team. Arizona would be smart to offer Dansby a short-term and possibly pricey deal in order to keep their linebacking core intact so that they can draft in other areas of need. Written by: Sean Berenbaum
Potential FA Target
Branden Albert. The Cardinals have had one of the worst rotation of offensive tackles in the NFL the last few years. And as luck may have it, with the 20th pick in the first round of the NFL Draft the Cards will likely miss out on the top tier of tackles in this class. Here comes Albert, who will hit the market as a high-quality tackle looking for a fat contract to match his percieved value. The Cardinals may act out of desperation and overpay him to be their left tackle of the future, but there doesn't seem to be many better options for Arizona at this point. Written by: Sean Berenbaum
St. Louis Rams
Team Needs: OL, SS, WR,
Most Important FA Team Needs to Re-sign
Rodger Saffold. After suffering injuries throughout his career and rotating between the tackle postitions, Saffold finally found a home as a right guard for the Rams last season. The Rams have a ton of uncertainty on their offensive line going into next season, with Jake Long recovering from an ACL tear, Scott Wells and Harvey Dahl possible cap casualties and no long term solutions at LG and RT. Saffold played at a Pro Bowl-level at RG last season and the Rams could use his injury history as a way to get a team friendly contract. A high-quality lineman is not something the Rams can let walk away. Written by: Sean Berenbaum
Potential FA Target
Alterraun Verner. After picking off 5 passes and deflecting 23 more with the Titans in 2013, Verner heads into free agency as one of the top corners on the market. With Cortland Finnegan either being cut or simply being innefective as a nickel corner as he was last year, Verner could easily find a role with the Rams as their slot defender. Verner played in DC Gregg Williams' aggresive defensive scheme last year and could be willing to sign with the Rams for a little less money in order to join a defense that he is already comfortable playing in. Written by: Sean Berenbaum
[/tab] [tab title="NFC North"]
Chicago Bears
Team Needs: LB, DL, OT
Most Important FA Team Needs to Re-sign
Henry Melton. Despite an ACL injury ending his season prematurely in 2013, Melton has proven himself an elite DT in the league who is capable of getting to the QB and stuffing the run. Considering the market for free agent DT's and the Bears current options at that position, its hard to believe they will let him walk without putting up a fight. The Bears were continuously gashed up the middle by opposing running backs due to their lack of inside lineman and the free agent market has only older and inconsistent options at DT, making Melton the only player at the position that the Bears could build around. Melton will be against being tagged after what happened to him last season, but the Bears need to do whatever they can to bring Melton back to Chicago. Written by: Sean Berenbaum
Potential FA Target
T.J. Ward. With Chris Conte continuing to prove he is a poor NFL starter and Major Wright on his way out of Chi-Town, the Bears are in desperate need of a safety. Ward is a perfect fit for the needs of the Bears as he is an aggressive, hard hitting safety who plays at the line of scrimmage and that kind of presence would help the Bears awful run defense. With a lack of free agent options at safety, Ward will be sure to have a lot of suitors, meaning that his price could be driven up to the point where the Bears can't afford him as they have multiple other holes they need to fill, but if Ward falls in the right price range, the Bears would be wise to pull the trigger. Written by: Sean Berenbaum
End of an Era
Free agent Devin Hester confirmed he won't be back with the Bears.
Detroit Lions
Team Needs: CB, SS, WR, OT
Most Important FA Team Needs to Re-sign
CB Rashean Mathis: Corners are always at a premium in the NFC North, and Mathis is a reliable veteran. The Lions are expected to draft at least two new members of the secondary, so Mathis could be retained to mentor the rookies, or even remain on as a starter or nickel corner. If the 33 year old veteran finds the free agency market slow, he will be welcomed back in Motown. Written by: Jody Smith
Potential FA Target
WR Eric Decker– This is an excellent draft for wide receivers, but the Lions could choose to target the top availalbe veteran wideout on the market and use their draft picks to address an ailing defense. Decker would be an excellent secondary outlet to Calvin Johnson and would give Detroit two big receivers on the outside that would present matchup nightmares for opposing cornerbacks. -Jody Smith
Rumors
The New York Daily News reports the Jets have had internal discussions about free agents Brandon Pettigrew, Ed Dickson, and Scott Chandler. The Lions may be willing to let Pettigrew walk. The long time Lions Tight End is said to be seeking over $6 million annually. That'd be a severe overpay by anyone.
Green Bay Packers
Team Needs: OL, DL LB, SS
Most important FA team needs to re-sign
B. J. Raji. The Milwaukee Journal-Sentinel reports there are "indications" free agent B.J. Raji will decline the Packers' one-year offer. Raji is the type of player that can eat up a lot of space quickly. His value shouldn't be overlooked despite a decrease in snaps played. Written by: Shawn Luskey
Potential FA Target
Jairus Byrd. Byrd has made it very clear that he wants lots of money. The Packers have lots of money to spend with a projected $34.7 million plus in salary cap space. Byrd is the top safety in free agency this off-season and Green Bay's star defensive back Sam Shields has hit the market. He still could be signed by the Packers, but him not being there will obviously create a sizable hole in Green Bay's secondary, one that Byrd would fill more than adequately. Written by: Zach Greubel
Minnesota Vikings
Team Needs: QB, CB, DE, LB
Most important FA team needs to re-sign
DE Everson Griffen has played sporadically through his first four seasons but has shown flashes of potential and is only 26 years old. The Vikings aren't expected to re-sign Jared Allen, so they will need to re-sign a younger option who actually ranked as a better pass rusher than Allen in the 2013 season. Written by: Jody Smith
Potential FA Target
CB Aqib Talib. The Vikings secondary is a big concern, and Talib, 28, is in his prime and ranks as the top available free agent corner. Minnesota will need as much help as they can get in their secondary, playing in an NFC North division loaded with pass-happy foes. Alterraun Verner, Vontae Davis and Dominique Rodgers-Cromartie also make sense.- Jody Smith
The Truth the Fans Don't want to Hear
Matt Cassel will enter 2014 as the favorite to start over Christian Ponder after throwing for 1,807 yards, 11 touchdowns, and completing 60.2 percent of his passes in nine games last season. The signing provides the Vikings with a "bridge" quarterback for a rookie signal caller. Now entering his age-32 season, Cassel has established himself as a poor NFL starter but one of the best backups in the league. His re-signing won't please Adrian Peterson, however, who had been loudly campaigning for GM Rick Spielman to sign Michael Vick. –RotoWorld
[/tab] [/tabs]
Click on the tabs to scroll through all the NFL Divisions.
[ad id="Ad2″]
Tell us who you think your team should go after?