MyBookie Review
Is Sports Betting Legal?
Yes.  In the spring of 2018, the US Supreme Court changed the federal ban on wagering outside of Nevada, making it legal to bet on sports again. An estimated 32 states could implement sports betting within the next five years. Every state is different, with some states passing bills faster than others, but for the most part, if you live in one of the few states that have full scale legalized sports betting, a site like MyBookie is 100% legal for you.
Who Is MyBooke?
MyBookie offers sports betting, casino betting, and racing online. They have a large number of contests and a strong payout system in place. While MyBookie – which launched in 2012 – isn't as established as some other well-known online betting sites, there are quickly becoming a popular choice among thousands of sports fans. MyBookie claims its top priority is to always have the easiest deposits, the fastest payouts, and the absolute best customer service. Since launching, MyBookie has delivered on its promise of excellent service.
There were some early reports of complaints and issues when the company first launched, which have been resolved, but for the most part, MyBookie has had a very clean streak in the years it's been active. My bookie offers reputable Sportsbook Software, has an easy to use the website, and very attractive, fast-loading mobile experience.
Is SportsBetting Safe?
Yes. Signing up and depositing money into a sportsbook is as easy as making any kind of purchase online. But let's be real here, you are gambling online. You still need to be smart and bet responsibly. Play within your limits and remember the goal is to have fun. That being said, having a place to wager on a game is a great way to turn a dull Thursday night football game into something really exciting.
MyBookie Payments Options
| | | | | | |
| --- | --- | --- | --- | --- | --- |
| Method | Deposit | Payout | Minimum Deposit | Max Deposit | Estimated Payout |
| Visa | Yes | No | $45 | $1,000 | Instant |
| MasterCard | Yes | No | $45 | $1,000 | Instant |
| Bitcoin | Yes | Yes | $45 | $1,000 | 1-2 Days |
| Bank Wire | Yes | Yes | $2,000 | No Limit | 5-10 days |
| ACH | Yes | Yes | $100 | No Limit | 3-5 Days |
| Phone Transfer | Yes | No | $45 | $1,000 | 4 hours |
| Check | Yes | Yes | $100 | $2,500 | 5-10 Days |
For some, MyBookie's payment options may appear to look standard as far as online betting sites go, but in comparison, the payout setup is actually quite good. Bitcoin has been added and is becoming surprisingly more popular. However, most traditional users use Visa or MasterCard to make their signup deposits. Credit Card statements do NOT mention gambling on statements and I have not heard of any banks having issues with transactions.
Remember, a company like MyBookie prides itself on customer reviews and word of mouth. They would never dare trying anything funny with personal info or payment issues. Bad press can have a massive impact on the reputation of the company, just look at the backlash Fanduel is going through due to glitches on their website. Fanduel did eventually pay the customer that found a sneaky loophole on their website, but the issue of trust from the hesitation by Fanduel by not paying a person was damaging enough to hurt their brand. MyBookie has been online since 2012, there are no issues are concerns like Fanduel had who raced their product to market to compete with a rival.
Bonuses (Important)
MyBookie will offer you a 100% signup bonus. This means if you signup and make a $100 deposit, you get $100 in bonus credits. However, this is where people get confused, even annoyed as they don't fully understand how the bonus works.
The bonus "credits" don't become real money until you reach the rollover requirement.
What is a Rollover Requirement?
A rollover is an industry-standard wagering requirement that a user must meet before the bonus funds are available for payout. Most MyBookie bonuses come attached to a rollover requirement. If you claim a bonus, you must rollover, or wager, your bonus funds and the initial deposit amount before you are eligible for a payout. Sometimes you must rollover those funds multiple times.
For sportsbook bonuses awarded on deposits, typical rollover requirements vary from 3x to 10x based on your deposit amount. This means you must wager the full amount of your deposit and bonus at least three times before you can request a payout.
How Can I Find Out My Rollover Requirement?
Go to Cashier on the website, then click the info button next to your promo code to see the requirements associated with your deposit bonus. The rollover shown will be based on the combined amount of your deposit and the associated bonus.
Withdrawal Rules
MyBookie processes payouts every day on a first-come-first-served basis. As long as all pre-authorized or pending deposits to your MyBookie account have been settled, they can process your payout in as little as 24 hours. To avoid the payout being declined, make sure that you have a sufficient balance in your account to cover your payout amount until the funds are removed from your balance. After MyBookie processes a payout and debits the funds from your account, the transfer times and fees can be found below. There are some other standard withdrawal rules that you should read, however nothing out of the ordinary appears in their requirements.
MyBookie Review: My Personal Take
Grade: 4.79 Stars
I have been betting NFL and College football online for as long as I can remember. I live in Vancouver, Canada which has no laws against sports betting online. Betting with sites like MyBookie and Bodog has been part of my weekly football routine for years.
I have tried about a dozen online sportsbooks, and MyBookie is one I still use today. This MyBookie review covers a lot of the pros and cons, but I think it's a great site to start with as long as you don't get too confused about the 100% signup bonus. The rollover confuses people the first time they signup, and honestly, the best advice I would give to someone would be to not make the Bonus your focus if you're a beginner. When I look at a sportsbook, I'm not looking at the free gift that comes with the signup, I'm looking at the odds, and how good the service (website) is.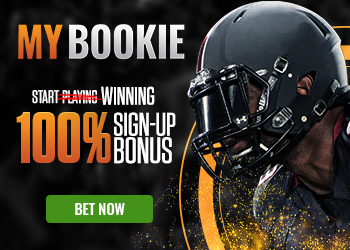 Personally, I have a few sites with funds in them, as when I want to make a wager, I want to make it with the site with the best odds, and with the site that takes the least about to place the bet ("juice").
Thanks for reading and Good Luck
James is a diehard fantasy football fan who has been playing for over 20 years. He doesn't have a favorite team, mainly from moving around a lot when he was a kid. This has to lead to many fantasy championships as James drafts with his head, not with his heart. James also plays heavily in Dynasty Football and loves DFS and Picking games. He's excited to see where he can go writing for Gridiron Experts