After consecutive weeks of multiple Monday Night Football games, we return to a singular contest with the Los Angeles Rams against the Chicago Bears. This is the third straight year where these two teams have played one another in a primetime game (2018 and 2019 both being on Sunday night), giving a lot of exposure to this particular matchup. The Rams and Bears are among the two best teams in the NFC so far this year and should make for a great game on Monday night.
Monday Night Football Preview
Chicago Bears at Los Angeles Rams
Bears at Rams (-6) | Over/Under: 44.5
Vegas Odds
Chicago will be traveling to SoFi Stadium for this game and are road underdogs for Monday night. Vegas has the Rams favored by six points, giving the Bears a lot of cushion to cover the spread, especially in a contest against two very talented teams. I see this as being a tightly contested, fairly evenly matched contest so I would take the Bears and the points this week. For the Over/Under, Vegas has the line at 44.5, forecasting a defensive game that will result in a low overall score. Both of these defenses are very solid and will play a major factor in this contest and should keep the overall score on the lower side. Take the under for Monday night.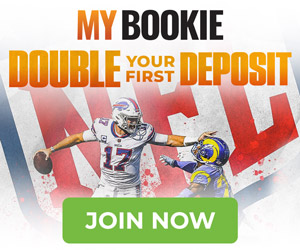 Quarterbacks
After starting the season with a dud game against a weak Cowboys defense, Jared Goff has bounced back with three top QB1 level performances since Week 2. On the season, Goff is ranked as the QB13 (depending on scoring format) with 1570 passing yards, ten touchdowns, and four interceptions through Week 6. Another large part of his fantasy production so far this season is his increased rushing numbers. Goff has rushed for 39 yards, two touchdowns, and six first downs through Week 6. These numbers may not seem impressive, especially compared to some of the other quarterbacks around the league, but for Goff, they are very encouraging. If he can maintain this pace throughout the whole season, Goff will finish with 104 yards, 5 touchdowns, and 16 first downs; all of which would be career highs. Goff has also, to this point in the season, pacified a problem that has affected him since his rookie season. Goff has found a way to hold on to the ball better in 2020, only recording one fumble through Week 6. For comparison, Goff has recorded 35 fumbles through 54 careers starts from 2016-2019. Even if Goff's rushing production slows down, it seems like he and the Rams coaching staff have found ways for him to control the ball better which will not only keep him from losing points directly in your lineups but also give his offense more opportunities to produce.
He has proven so far this season that, in the proper matchup, Goff can shine and make a positive impact on your fantasy lineup as a streamer. In this Monday night matchup, Goff will have his hands full against a Bears defense that is the best in the league against quarterbacks through Week 6 (depending on scoring format). This team in particular has given Goff problems in the past. In both his 2018 and 2019 games versus Chicago, he has yet to throw for more than 180 yards or even a single touchdown. Even with the upside, Goff has shown, he is just not a viable option for this week. Keep him on your bench/waiver wire this week.
For Chicago they decided to make a change behind center in Week 3, moving Mitch Trubisky to the bench and starting Nick Foles going forward. So far, it has shown mixed results, both from an on-field and fantasy perspective. Foles is ranked as the QB20 since Week 4 when he became the full-time starter and has not produced a top fourteen weekly performance in 2020. Foles has shown he is not a reliable fantasy option, outside of maybe 2QB/Superflex leagues but even in those formats he has not produced enough to make him a weekly starting option. This matchup is not one that makes him a quality streaming candidate either. The Rams are the sixteenth worst defense against fantasy quarterbacks (depending on scoring format) but a large percentage of those numbers came from rushing yards and touchdowns. The Rams are within the top twelve teams in the league in regards to rushing yards and touchdowns allowed to quarterbacks but are among the bottom thirteen teams in regards to passing yards and touchdowns allowed through Week 6. Foles is not the type of player to take advantage of this specific weakness and should be kept on your bench/waiver wire this week.
Running Backs
David Montgomery was a running back that many had high hopes for going into 2020. Given his role and the talents he has flashed throughout his young career, there were some expectations that he would make the jump from the low-end RB2 tier up to RB1 territory. Through Week 6, it seems like this season will be more of the same. Montgomery is ranked as the RB18 in PPR scoring format leagues and has only had one RB1 level finish this season (Week 2 against the Giants). He is continuing to see the rushing work he saw in 2019, averaging 13.6 carries per game through Week 6, slightly lower than the 15.1 he averaged per game last season. He is also getting the same amount of yards per carry (3.7) through Week 6 that he had throughout 2019 so he is proving to again be a running back that will get the ball often but is unable to be effective with it. One bright side he has shown this season, however, is his pass-catching ability. Montgomery has been tasked with helping fill the void left in the offense with the injury to Tarik Cohen and he has shined in this role to this point in the season. For Weeks 4-6, Montgomery has 14 receptions on 19 targets for 99 yards, which is nearly double his numbers from Weeks 1-3. If he can continue this pace, Montgomery may finally have the tools he needs to increase his fantasy upside. On Monday night, he will be facing a Los Angeles defense that has been tough overall against fantasy running backs (ranked 11th against the position through Week 6) but has shown a weakness to pass-catching backs. The Rams have allowed the fifth-most receptions and receiving yards to running backs so far this season and should give Montgomery plenty of room to add fantasy points to your lineup, especially in PPR leagues. Start Montgomery this week and expect a high-end RB2 performance with RB1 upside against Los Angeles.
One of the NFL's most mysterious running back committees is with the Rams and has caused many headaches for owners who have one of their running backs on their roster. With the exception of Cam Akers, who has dealt with a rib injury since Week 2, each member of this committee has finished a week (in PPR scoring formats) as at least the RB11 or better with Malcolm Brown finishing as the RB5 in Week 1 and Darrell Henderson finishing tied for the RB10 in Week 2, finishing as the RB11 in Week 3 and as the RB6 in Week 5. It seems that whoever gets a majority of the work in this offense has been a quality fantasy running back, the only issue is trying to figure out which player it will be in any given week. This is especially tough going forward when you add Akers back into the mix, who seems to be healthy now and will look to make his mark in the offense. Henderson, Brown, and Akers will look to further define their roles on Monday night against the Bears, a defense that is ranked as the 11th best against fantasy running backs through Week 6 (depending on scoring format). Based on the matchup and the overall murkiness of this backfield, Henderson is the only Rams running back I would consider starting this week. Akers is still too much of a question mark after his injury and Brown seems to be the odd man out of the group since Henderson took off in Week 2. Start Henderson as an RB3/Flex option on Monday night.
Wide Receivers
Los Angeles is one of five teams to have two wide receivers ranked as the WR24 or higher through Week 6 in PPR scoring formats with Robert Woods and Cooper Kupp coming in as the WR13 and WR23 respectively. Kupp was initially ranked as the WR17 through Week 4 before having a large dip in production in Weeks 5 and 6 where he combined for eight receptions for 77 yards. Despite this recent slide, Kupp had 17 combined targets in those games, so he continues to be a constant destination for Goff even in games where things may not be going his way. His role as the "go-to guy" for Goff makes Kupp normally a very safe play but has spurned owners in recent weeks. Look for him to bounce back on Monday night against the Bears and get back on his feet. For Woods, he may be the second man on the list for targets but he has found his way into the endzone frequently in 2020. Woods is tied for the most rushing/receiving touchdowns on the team through Week 6 with four, making the most of each opportunity he gets in this high flying Rams offense. Both of these wide receivers will have a tough matchup to contend with but there will be room for them to still have solid fantasy production. The Bears are the fourth-best defense against fantasy wide receivers (depending on scoring format) but have mainly accomplished this by keeping wide receivers out of the endzone. Chicago has only allowed one touchdown to a wide receiver through Week 6 but has surrendered the twelfth most yardage to the position in that same time frame. Feel confident in starting Kupp and Woods on Monday night and expect high-end WR2 production from both guys this week.
Despite some turbulence earlier in the season regarding his contract and role on the team, Allen Robinson has settled into a key position within the Bears offense. He has been a reliable target for Foles since he took over under center and that has translated to fantasy success. Since Week 4, Robinson is ranked as the WR10 in PPR scoring leagues and has 35 targets, which is almost double the next wide receiver in that timeframe. In fact, during that same stretch fellow Bears wide receivers Darnell Mooney and Anthony Miller, the next two wide receivers on the depth chart, have 31 targets combined. Foles looks to Robinson early and often and there is no indication this will stop on Monday night. But, this particular matchup will play a big factor in his production this week. Los Angeles' secondary has been sensational so far this season, ranking as the best defense against fantasy wide receivers through Week 6 (depending on scoring format). For Robinson in particular, he will likely have the task of competing directly with talented cornerback Jalen Ramsey which puts a significant damper on his upside in this game. Robinson has a safe floor based on his target numbers so he is still worth starting this week but I would keep expectations low for Monday night. Even though Mooney and Miller have made some plays throughout this season, with the tough matchup and the limited target share both players have gotten recently, they both should remain on your bench/waiver wire this week.
Tight Ends
After two consecutive poor years in Green Bay, many thought Jimmy Graham's days as a fantasy asset were over. But, in a pleasant surprise, he has bounced back so far in 2020 for Chicago, ranking as the TE6 through Week 6 in PPR scoring formats. Even with the quarterback change, he has become a staple in the Bears offense and has been a constant endzone target for Foles. Graham has four receiving touchdowns on the season, the most on the team and is only one shy of passing his amount during his entire Packers tenure. He will look to continue his recent success on Monday night where he will face the 13th best defense against fantasy tight ends (depending on scoring format) in Los Angeles. The Rams were exposed last week against the 49ers, allowing George Kittle to gain 109 yards and one touchdown. While Graham at 33 is nowhere near the athlete that Kittle is, it shows that teams who use their tight ends heavily can find production against this Rams defense and Graham will be no exception. Start Graham and expect another TE1 level performance from him Monday night.
Tyler Higbee was a tight end that lots of prospective owners were very excited about this offseason. After a solid stretch to end the 2019 season, many expected him to take a leap in Rams offense and become a weekly startable fantasy asset in 2020. So far, Higbee has been a letdown outside of his sensational performance in Week 2 where he caught five passes on five targets for 54 yards and three touchdowns (a game that makes up 47.2% of his total fantasy production on the season). Outside of that, Higbee has assumed his previous role in the offense as an afterthought receiving option behind Woods and Kupp, and even fellow tight end Gerald Everett at times. At this point, Higbee is a player who should only be started in the most favorable matchups and should remain on your bench/waiver wire this week, where he will face a Bears defense that has not allowed a double-digit PPR scoring performance to a tight end since Week 2 against the Giants.
Defense/Special Teams
Both of the defenses that are going to be featured on Monday night are led by star talents such as Khalil Mack for Chicago and Aaron Donald for Los Angeles. These players have helped contribute to two of the top ten D/ST units (depending on scoring format) through Week 6 and should continue to shine on MNF. The Rams D/ST will be the best option to start among the two as they should have the better offensive matchup as the Bears are the eighth-worst team in the league in regards to points scored and yards gained. Los Angeles will be able to keep Foles and company in check, keeping the score low and increasing the points in your lineup. Chicago's D/ST is not a bad option to start either, as they have allowed the ninth fewest points this season and have gotten at least one turnover in five of their six games this season. But with the upside the Rams offense possesses, the Bears D/ST is just too risky when you consider the other streaming options that are out there. Start the Rams D/ST but keep the Bears D/ST on your bench/waiver wire this week.
Prediction
In this matchup, the Rams and Bears are two teams who should be very familiar with each other, given their recent meetings. The only factor that will noticeably different in this contest as opposed to those previous games is the addition of Foles. While Chase Daniel came in during the fourth quarter of last year's game, Foles will be getting the start on Monday night and will play a vital role in the result of this game. Goff and the Rams offense will be able to produce in a somewhat limited capacity on Monday night but should still be able to score at least 20 points on this Bears defense. This puts the ball in Foles' court to find a way to match that production against a very advantageous Rams defense, something I don't think he will be able to do against Donald and company. I have this game as a 21-17 Rams win on MNF.
Brandon Sysak is an staff writer for Gridiron Experts. I have been covering different aspects of the NFL, fantasy football and the NFL Draft since 2017. I am originally from Midland, MI but now reside in the Cincinnati, OH area. I began my career with Gridiron Experts covering the 2017 College Football National Championship.