Mecole Hardman Fantasy
Mecole Hardman is NOT Tyreek Hill, but what he is can still be fantasy relevant.
Hardman is one of the fastest players entering the league after he ran a 4.33-second 40-yard dash at the NFL combine. Because of this, too many people want to compare (or replace) him with Tyreek Hill after Hill was suspended from all team-related activities.
Who is Mecole Hardman?
The Kansas City Chiefs invested a 2nd round pick on the 5′ 10″, 187 pound former Georgia wide receiver, but interestingly enough, Hardman's career didn't start at the wide receiver position. He came into college as a cornerback but played quarterback in high school. In his senior season, he was invited to the U.S. Army All-American Bowl and played as a wide receiver converting 3 catches for 36 yards. His entire freshman year at Georgia was spent on the defensive side of the ball at cornerback before switching him to wideout in his Sophomore season. His athleticism and ability to play everywhere is part of the reason he was a five-star athlete out of high school and ranked second best in the country (according to ESPN).
People knew Hardman was fast going into the combine, but he turned heads with an 84th percentile SPARQ-x score according to player profiler (just for reference Tyreek Hill's SPARQ-x score is 90th percentile). His speed is by far the best aspect of his game which he uses to create separation. When facing off coverage, he can accelerate past defenders and has the straight-line speed to make sure they don't catch up. He goes into his breaks with speed and comes out of them just as fast. He is extremely dangerous with the ball in his hands and has been productive as a returner in college.
However, when he is pressed he can get thrown off his route stem or lose his timing completely. A crowded field can sometimes lead to him running into defenders versus rubbing off his teammate to find open space. Although he is a willing blocker, there are plenty of times where he gets outmuscled by larger, stronger cornerbacks. My biggest concern for Hardman is his concentration and drops. There are too many times that he allows the ball the hit the floor either because of a lapse in concentration or because of poor hand placement. Hand placement can be coached up, especially considering he has only been a wide receiver for a few years, but concentration will have to be dealt with on a personal basis (positive reports did come out of his Pro Day).
[the_ad id="79528″][the_ad id="69556″]
The weak analysis is that because they're both on the smaller side, very fast and playing on the Chiefs offense, Mecole Hardman will be the next Tyreek Hill. But people are either overlooking what else Hill did or are typecasting him as just a speedster.  Last year, Hill posted the 17th best contested-catch rate (45%) – in 2017, he was ninth best (64%). Hardman rarely if ever won a contested ball. Hill played all over the field but as a primary receiver saw more work outside against the opposing team's top corner. Hill averaged a very low 4 yards of cushion despite his speed. If opposing corners were playing close to the line against Hill, Hardman will likely see the same type of coverage if he is put in that role. Unfortunately, press coverage is a struggle for Hardman. Hopefully, Andy Reid is a creative enough coach that he will be able to find places for Hardman to shine if Hardman makes strides to become a more complete wideout.
Dynasty Impact
Mecole Hardman went from a late round hype player to a first-round rookie pick after the NFL Draft. I think this explosion is unwarranted, but I do believe Hardman is now worth a much earlier rookie pick. My biggest fear is that Hardman ends up in a career path similar to John Ross. Ross showed exceptional speed, went to a decent situation and had the potential to be a fantasy contributor early – unfortunately that potential has yet to be realized. Hardman is set up for that same level of disappointment.
If you are drafting Hardman, be ready for a long road to production. It is undeniable that he has the athletic traits to be successful, but he still has a lot to work on to be an NFL and fantasy dynamic wide receiver. Hardman is going to be a guy that I will not be drafting. He is going way too early in drafts for what I am willing to pay for a guy that has all potential but little safety. I will, however, be watching and waiting to trade for him when he takes time to develop into a quality wide receiver.
Quick Link: Dynasty Rookie Rankings
[the_ad id="80759″][the_ad id="66090″]
Fantasy Impact
Redraft and Best Ball leagues might be the best place to draft Mecole Hardman. According to Fantasy Football Calculator, Hardman has been draft at an ADP of 11.02 in PPR leagues since the NFL draft. He is on average the 49th wideout to come off the board and the third rookie (DK Metcalf at 39 and N'keal Harry at 41 are being drafted above him). He is being drafted around guys like James Washington (WR#45), Dede Westbrook (WR#46), Devin Funchess (WR#47) and Desean Jackson (WR#50).
At this point in the draft, I would rather take the chance on a guy like Hardman over these "known commodities." The upside is too significant to pass up, and at the eleventh round, you should have already established your starting line up and are looking to swing for the fences with players precisely like Hardman. Even though I still have tempered expectations for Hardman in his rookie year, I will be trying to grab him in Redraft and Best Ball leagues.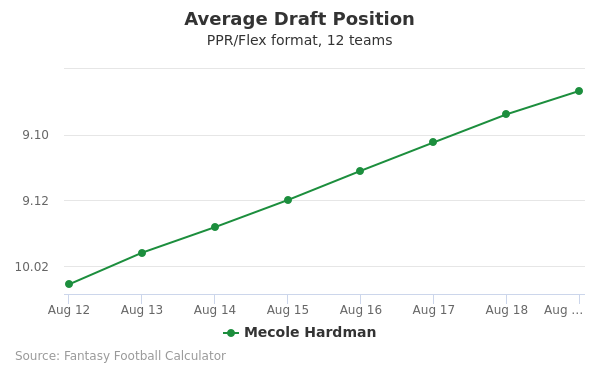 ADP from Fantasy Football Calculator
Final Thought: Mecole Hardman is not Tyreek Hill! But, he is capable of turning into an above average wideout – he isn't there yet. And although I currently see him as fool's gold, a little polishing might reveal a diamond in the rough.
[the_ad id="61410″]
Thanks for Reading
When Seth was staying home to care for his newborn twin boys, he decided to take his passion for football and fifteen years of fantasy football experience to the next level. This was the birth of "the at-home dad". For the past five years, Seth has been writing and podcasting about all aspects of football. He writes the weekly RBBC article as well as being a co-host of the Fantasy FAQs podcast.