Is Jameis Winston Overvalued?
The Jameis Winston fantasy hype has football fans all aboard this offseason. With the addition of offensive weapons DeSean Jackson, Chris Godwin, and
O.J. Howard
, some have identified Winston as a dark horse to win the NFL MVP award in 2017. In my opinion, these claims are slightly unprecedented and show how fantasy owners can be quickly swayed. It is time to take a step back and pump the brakes on the Winston hype train.
Winston fell from the 13th best fantasy quarterback in 2015, to the 16th best in 2016. One of the reasons for his drop-off was Winston was less effective running the ball near the goal line. He went from a total of six rushing touchdowns to one rushing touchdown in 2016. There is no denying Winston improved as a passer, as he threw for 28 passing touchdowns versus 22 touchdowns his rookie year, however, despite his improvement his fantasy value did not budge.
With the addition of all the new weapons in the passing game, it's easy for one to predict that Winston will continue to not run the ball. Being a franchise quarterback though, it comes to no surprise that the Buccaneers want to avoid using Winston as a runner to keep him healthy. However, this limits Winston's fantasy ceiling.
When a quarterback uses his running ability their fantasy value exceeds astronomically. Consider a player like Tyrod Taylor from last season. Basically played with no great weapons to throw the ball to and yet he finished as the eighth quarterback overall in standard leagues because he rushed for 580 yards and six touchdowns. Obviously, it is not required for a quarterback to run to have high fantasy value, but for a guy like Winston, it would be nice to rely on him to get some fantasy points here and there from running the football.
Running ability aside there is another concern I have for Winston entering 2017: His deep ball accuracy. According to Deep Ball Stats on Brickwallblitz.com Winston was one of the worst deep ball passers in the league last year. He had an accuracy percentage of 46.6 percent on throws over 16 yards down the field and 32.8 percent on throws over 20 yards down the field. Those ranked 22nd and 28th respectively overall in the league in 2016. This was also despite the fact that Winston had the most downfield attempts of any quarterback in 2016.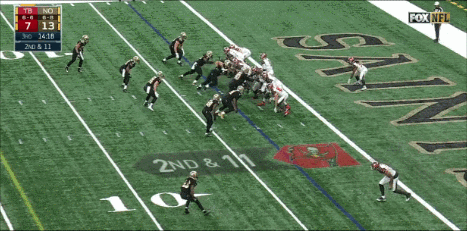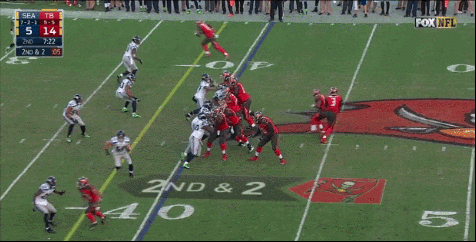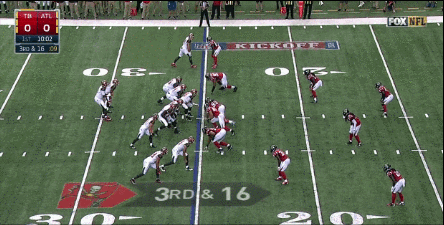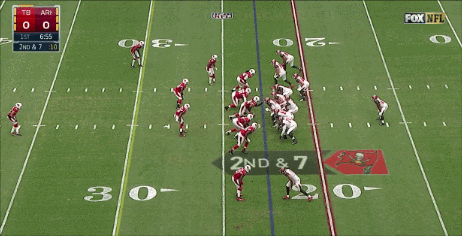 Jackson was brought in to be the deep threat across from Mike Evans, but what good does that do if Winston cannot accurately get him the ball? With such a high number of ill-advised throws down the field, it is no surprise that in the past two years he has thrown a whopping 33 interceptions. That ranks third highest in the league during that time span.
It is not all his fault though. His subpar and inexperienced offensive line (which has not improved at all since last year) does not always give him time to make accurate throws. The Buccaneers allowed the fifth most quarterback hits last season and Winston constantly has to try to make accurate throws with defenders in his face. According to Oliver Connolly of All22.com, the unit ranked 26th in pressure rate. They allowed quarterback pressure on 30 percent of dropbacks. I just don't see how Winston will consistently have time to drop back, let his receivers get down the field, and then deliver the ball.
In combination with a poor offensive line in 2017, not having a solid running game will also hurt Winston. Last year the Bucs only averaged 3.6 rushing yards per attempt last season. They also enter the season with many questions at running back position with the Doug Martin suspension.
The other factor that fantasy owners need to be aware of is the way Tampa Bay runs their offense. Dirk Koetter does not want to have Winston drop back and throw the ball 40 times a game. Only twice in 2016 did Winston have more than 40 passing attempts. The Buccaneers also like to run the football despite how effective it may be. They had the ninth highest rushing play percentage last year. Not exactly the best offensive scheme for hopes of a potentially high ceiling fantasy quarterback.
Koetter also knows that the more times Winston throws the more likely he is to turnover the ball. In the two games last season where Winston had 40 plus attempts he threw a combined five interceptions. As much as we would like for Koetter to have Winston throw the ball all over the field to get us tons of fantasy points, it is less probable than not. But then again Winston has not really shown the ability to put up massive fantasy outings.
Winston only had four games where he scored more than 20 fantasy points in 2016. Two of those games were against the Falcons who ranked dead last in fantasy points allowed to opposing quarterbacks. But unfortunately for Winston, he only gets to play the Falcons twice a year. Additionally, even when Winston played teams that allowed a high of fantasy points to quarterbacks (Saints, Panthers, and Raiders) he still failed to reach 20 fantasy points. In yet, according to the Fantasy Football Calculator, he is still being drafted between the end of the eighth and beginning of the ninth round, ahead of a lot of other quarterbacks.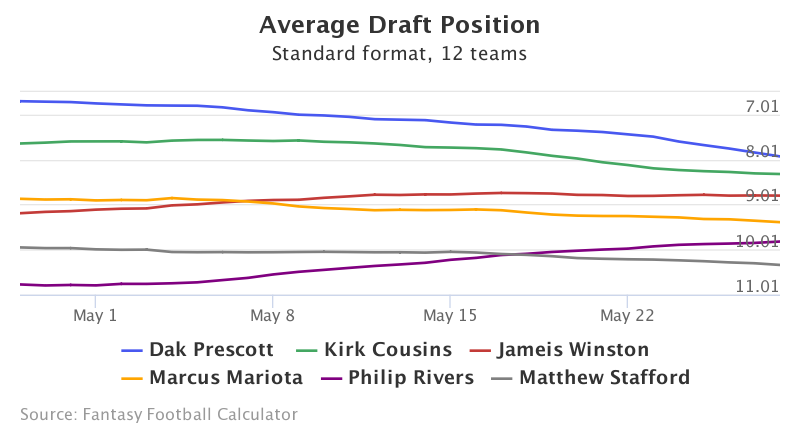 Dak Prescott, Kirk Cousins, Matthew Stafford, Tyrod Taylor, Blake Bortles, Russell Wilson, Andy Dalton, Marcus Mariota, Philip Rivers and Tom Brady (who missed 4 games), all had more fantasy points than Winston did last year. To make matters worse, Winston is being drafted ahead of some of these players like Mariota, Rivers, and Stafford. And this is only in May. Wait until his draft stock soars as the season gets closer.
The Buccaneers are featured on HBO's "Hard Knocks" program so expect the draft stock to continue to grow. As fans watch the show they will fall more for the overhyped quarterback. Fantasy owners will soon be paying up more than they should.
The Jameis Winston Conclusion
The Tampa Bay Buccaneers this offseason added offensive weapons across the board in hopes of helping Winston improve into his third year. But fantasy owners tend to forget that sometimes it can take a while for quarterbacks to develop chemistry with new skill players. Mike Evans was nowhere near as productive his first year with Winston as in his second, so it is not impossible to estimate that there may be learning curve with all of these new offensive weapons.
It is also important to note that pieces around you do not always make the quarterback great. During Cam Newton's MVP season he did not play with the most notable group of wide receivers. Corey Brown, Jerricho Cotchery, Tedd Ginn, and Devin Funchess made up the majority of his receiving core. He did have Greg Olsen, but besides that most would not say that Newton was surrounded by great playmakers in 2015.
At his current average draft position as the 12th quarterback off the board, his price is exactly where I think he will finish. I think that Winston finishes outside the top ten fantasy quarterbacks but inside the Top 15. With better quarterbacks going after Winston in the draft, I will be taking a chance on one of those guys over Winston. I do believe that Winston may end up helping his real team win more games in 2017, but fantasy teams? Not so much.
Hop off this hype train now, before it derails your fantasy season.
Agree or disagree with my take? Which quarterbacks would you take over Jameis Winston? Leave a comment below, share or tweet at me @Andrewerickson_.