Fantasy Football Regression 2014
Not every player can produce consistently every season, especially in the realm of fantasy football. Coaching staffs change, teammates change, playbooks change, friendships change, locker rooms change, even the field and stadium can change. All these factor into a player's performance leading into the next season. Opportunities and assignments are rarely exactly the same as they were the previous year. Consider these factors not just for the players in this article, but for every player, whether it be advantageous or harmful to their value. That being said, I believe the following five players will not be as productive as they were in 2013 and deserve lower consideration in 2014.
Andy Dalton
Cincinnati Bengals
Every time I think Andy "Red" Dalton was a top-three fantasy quarterback last year I get those same feelings that engulf me when I realize the store I just drove to is closed, or the ice cream I just went to order sold out. I feel angry and confused, yet have no one to blame but myself. Such emotions encompass my thoughts when reflecting on Dalton's breakout campaign, knowing it was my fault I didn't take advantage of his average draft position before the season started. Dalton achieved career highs in every major statistical category, including completions, attempts, yards, touchdowns and even interceptions.
However, there are a few reasons to believe Dalton won't repeat or improve last season's numbers. One is that new offensive coordinator Hue Jackson has stated he wants to run the football more. One look at the team's depth chart affirms that notion. The Bengals have more running backs than they know what to do with, including second-year standout Giovani Bernard and rookie Jeremy Hill, who is expected to take over the role BenJarvus Green-Ellis played for two seasons in Cincinnati. It figures that Jackson would like to run more considering he was the team's running backs coach last season. On top of that, the Bengals averaged just 3.6 yards per carry last season – fifth worst in the league.
Dalton's inconsistency should also be taken into account. Between weeks 6-8, Dalton threw 11 touchdowns. That's exactly a third of his season's total in just three weeks. In his other 13 games, he threw 22 touchdowns and 18 interceptions.  That kind of influx in the middle of a season isn't advisable to rely on. If anything, it proves that Dalton is inconsistent, as he has shown throughout his three-year career.
The fact that Dalton's wins, completions, attempts, yards, touchdowns and interceptions have increased each of his first three seasons is something to acknowledge and admire, but those trends will likely discontinue in 2014, except for maybe the interception category.
Going into this season I consider Dalton no more than a middle of the pack QB2. It's best to draft him as a backup or bye week replacement. In his previous two seasons, Dalton finished QB12 (2012) and QB16 (2011). I'd bet he finishes more towards the QB16 end this year.
Quarterbacks I'd rather have: Jay Cutler, Philip Rivers, Ryan Tannehill
Fred Jackson
Buffalo Bills
Fred Jackson and C.J. Spiller shared carries almost equally in 2013, but Jackson was the recipient of most of the team's goal line work. Jackson scored nine times on the ground, easily a career-high. He was able to do so much damage last season partly because Spiller was held back somewhat because of an ankle injury that plagued him for several weeks. With Spiller expected to be fully healthy and reportedly in line for an expanded role, it seems that Jackson's workload, and subsequently his fantasy value, will decrease.
Obviously, the Bills don't have one workhorse running back with Jackson, Spiller and newly acquired Bryce Brown, formerly of the Philadelphia Eagles. Additionally, Spiller's contract expires at the end of the season, giving him more incentive to stay on the field and outperform Jackson and company.
Let's not commit the sin of turning our heads to previous seasons. The year Spiller broke out (2012) was the same year Jackson saw career lows in carries and yards, and had just three rushing touchdowns. Needless to say, a healthy C.J. Spiller is bad news for Fred Jackson, who finished as RB11 last season.
While Jackson isn't undraftable by any means, he shouldn't be considered a RB1, or even a RB2. Right now I'll slate him in as a high-end RB3/flex, mainly because of his touchdown potential.
Running backs I'd rather have: Pierre Thomas, Stevan Ridley, Trent Richardson
Anquan Boldin
San Fransisco 49ers
Anquan Boldin found himself in a situational utopia in his first season as a 49er last year. He turned into Colin Kaepernick's main wide receiver, and main target, with Michael Crabtree sitting out the better part of the season due to an Achilles tear.Vernon Davis was the only other legitimate receiving threat besides Boldin. This culminated in Boldin's first top 15 WR finish since 2008, when he and Larry Fitzgerald were perennially wrecking defenses in Arizona.
There is a much bleaker outlook on Boldin's fantasy value in 2014. The San Francisco 49ers play nine games against top-10 fantasy scoring defenses from last year. On top of that, Anquan Boldin has more company to share the ball with, including former Buffalo Bills wide receiver Stevie Johnson. Johnson has made a name for himself as a reliable red zone target, an area in which Boldin excelled in his first season with the team. In fact, all seven of Boldin's touchdowns last season came inside the opponent's 20 yard line. That efficiency will be very difficult to maintain, especially with Johnson in town, not to mention Crabtree and Davis. Although, an unhappy Davis is currently holding out while waiting for an extended contract. If/when Davis does return, that's three other top targets taking opportunity and production away from Boldin.
I see Boldin returning to WR3 status in San Francisco's deeper offense.
Wide receivers I'd rather have: Terrance Williams, Marques Colston, Reggie Wayne
DeSean Jackson
Washington Redskins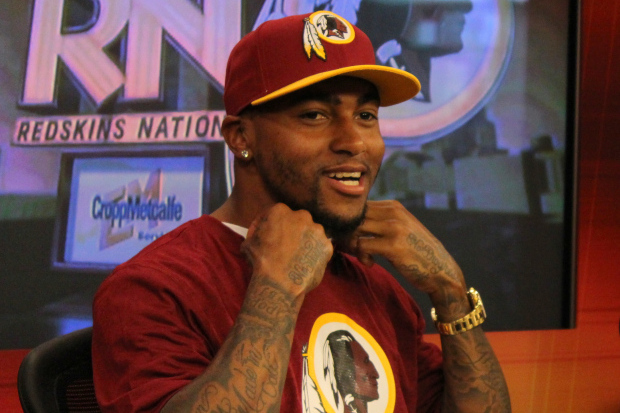 Not unlike Anquan Boldin, everything worked out perfectly for former Philadelphia Eagle DeSean Jackson last season. He played all 16 games for the first time since his rookie year in 2008. He was also the main beneficiary of a Jeremy Maclin injury and a vertical, offensive onslaught implemented by now second-year head coach Chip Kelly. Jackson set career highs in receptions, yards and touchdowns, as he finished in the top ten among wide receivers in fantasy scoring (despite said career highs, 2013 wasn't actually Jackson's best fantasy season, that was in 2009).
Jackson will be in a far different situation in 2014. He's on a new team with a new coach and a recovering quarterback, those being the Redskins, Jay Gruden and Robert Griffin III. While Jackson was the clear-cut No. 1 wide receiver on the Eagles, Washington already has a No. 1 wide receiver in Pierre Garcon. And while Gruden does like to pass, he's not as vertical with it as Kelly.
Not only will Jackson have Garcon opposite him, he'll have up-and-coming tight end Jordan Reed, Aldrick Robinson, Santana Moss, Leonard Hankerson and offseason acquisition Andre Roberts, among others, to share targets with. Jackson isn't his team's go-to guy anymore and may still be getting used to a new coaching staff, teammates and playbook.
I'm not saying Jackson will have a poor fantasy season, in fact I believe he'll have a good one. I just don't think it will be as good as last year's. In my opinion, he'll still perform well enough to end up as a WR2, so that's what I would draft him as.
Wide receivers I'd rather have: T.Y. Hilton, Torrey Smith, Kendall Wright
[gravityform id="7″ name="Fantasy Newsletter!"]
Antonio Gates
San Diego Chargers
The main reason for Gates' inclusion in this list is Ladarius Green. One of the main reasons I like Green more than Gates in 2014, and why I think Gates will regress, is that in Green's last three games in which he recorded a catch, he also scored a touchdown. Gates had just one more score than Green despite seeing 84 more targets. This attributed to Gates' less than satisfactory total of four touchdowns. Gates actually had his highest catch and yards total since 2009, but the lack of touchdowns were a big detriment to his fantasy value and the main reason he finished outside the top 10 among tight ends in fantasy scoring.
If Green gets used as much as he should be and the baton is finally passed, Gates will end up in low-end TE2 territory, officially marking the end of an elite era.
Tight ends I'd rather have: Ladarius Green, Charles Clay, Delanie Walker
Who do you think will take a step back? leave a comment below!
Zach hails from the bustling metropolis of Cheyenne, Wyoming. Three things Zach enjoys are football, food and water. Three things Zach doesn't enjoy are kale, mushrooms and the company of those who enjoy either (except hobbits). Zach is a life-long Broncos fan and has been playing fantasy football longer than he hasn't. He had top-five finishes in FantasyPros' 2016 NFL DFAC competition and the 2016 SFB480.