Fantasy Football Recency Bias
At the start of a new season, there are many questions to be answered. The biggest one is which players will see their fantasy production increase dramatically. How do we project that? Do we start by looking at some simple questions like which players are coming off of an injury? Who is due to break out based on them underachieving based on their talent level? Who fits into their team's offense better this year than last year? After looking at who had a bad year last based on expectations, there are 15 to 20 players who are likely to improve upon last season. Here are 7 players who I think are the best bets for a bounce-back season in 2020.
Matthew Stafford
Quarterback
Since 2011, Stafford has started every game for the Detroit Lions up until his back injury in week 9 last year. That's 8 straight seasons of 16 games started and half of the 2019 season for a total of 136 starts. In the 8 games he started last year, Stafford was averaging 312 passing yards throwing for more than 342 yards in half of them. He had 19 touchdowns and only 5 interceptions. These stats show that Stafford can put up fantasy points on Sundays. He made this list because he is supposed to be healthy and he is coming back into the second year in Darrell Bevell's offense. An offense that had success with him moving the ball through the air as well as grinding out the clock while running the ball. If Stafford played out the season at the same pace he would've performed as well as the 2011 season where he threw for 5,038 yards and 41 TDs. His season last year had him ranked as the 29th best QB and if he is indeed healthy as the team says, he should be climbing back into the top third as a QB1 on your roster. Going from the bottom of the list of starting quarterbacks to back into the top ten is the reason why he is on this list.
Evan Engram
Tight End
Another player who had their season cut short with an injury who is expected to come back healthy. The problem is he didn't put up fantasy points as consistently as he did in years past even when he was healthy. He had to work with a new quarterback in Daniel Jones and a transition of the offense away from Eli Manning. Like any player, the more the Giants give the ball to Engram the better he does. 2019 was the first year that Engram put up 100 yards receiving in a game and he did it twice in the first three games. One of them with Manning under center and the other with the rookie Jones. In the rest of the games, before Engram was injured in week 9, his production tailed off as Jones started to get his feet wet against NFL defenses. Besides the injury, I would attribute Engram's lack of production to the transition from veteran quarterback to rookie. There is a restriction on the playbook as to what plays get called with a rookie quarterback. The weekly installation of more plays increases as the comfort level with the offense increases. Installing the offense with a new QB can affect the tight end position more than others as he may be needed as an extra blocker which takes him out of receiving game.
Juju Smith-Schuster
Wide Receiver
Juju Smith-Schuster is a talented wide receiver who suffered more from the team's problems than his deficiencies affecting his fantasy scoring. The biggest reason was Ben Roethlisberger went down to injury and Pittsburgh had no answer at quarterback to help carry the team forward for the rest of 2019. The Pittsburgh Steelers had 3 quarterbacks start for them last year and that resulted in 18 team passing touchdowns and 18 interceptions thrown (not including the pick that Jaylen Samuels threw). None of that can be blamed on Smith-Schuster. In 2019, he started 5 more games than he did during his rookie year (12 to 7 respectively) but had eight fewer targets (71 compared to 79). He was significantly lower in every major statistical category which resulted in his total fantasy points being more than 2.5 times less than last year. His rookie year wasn't bad but his year-end results were less than half of what he put up as a rookie. All of this points to the fact that he had a down year last year and that with a healthy Roethlisberger he can rebound and show us last year was an exception rather than the norm. Take advantage of those who drafted him high last year and are letting him slide this year.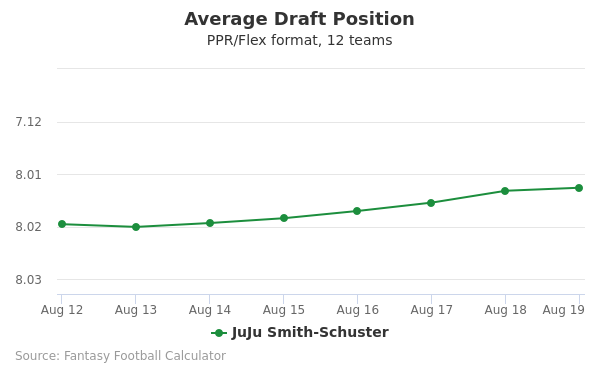 ADP from Fantasy Football Calculator
Adam Thielen
Wide Receiver
Going into the 2019 season, most people probably didn't expect him to top what he did in 2018. In 2018 he snagged 113 receptions for 1,373 yards and 9 touchdowns. In 2019 he played in 6 fewer games and the ones he did play he wasn't healthy. He only managed to pull down 30 catches for 418 yards but did manage 6 touchdowns. Line them up side by side and it is easy to see Thielen had a bad year, but he is going to be the WRW1 on his team with Stefon Diggs being traded. The Vikings grabbed Justin Jefferson in the first round to develop into a reliable receiver and draw attention away from Thielen. Thielen still shouldn't have to face double teams too much with Dalvin Cook running the ball the opposing defenses will have to pick their poison. Do we put an extra player in the box to stop the run and leave Thielen in single coverage or do we double him and leave Cook to run the ball and burn up the clock? Either way, Thielen is good enough to get open if he has the time. As long as he can avoid the nagging injuries that plagued him last year we can expect him to be closer to his 2018 numbers than what he mustered last year. His talent and work ethic won't allow him to repeat what happened to him last year.
Todd Gurley
Running Back
Sometimes all a player needs is a change of scenery. This offseason Todd Gurley went home to where he played his college ball to rejuvenate his NFL career. Even though his 2019 stats were lower than the two previous years, the bigger reason Gurley is tagged for a bounce-back year is that he ended the year ranked as the 14th running back based on total fantasy points. We know he has been fighting to get completely healthy but with Gurley's talent, there is just no way he should finish out of the top 10 running backs. The way the Atlanta Falcons offense is set up with Julio Jones and Calvin Ridley at wide receiver and Hayden Hurst at tight end, this is another situation where opposing defenses will have to pick who they want to guard against racking up yards and first downs. Gurley is only 25 years old and is also dangerous as a receiving threat out of the backfield. With the Atlanta offense being so pass-happy it just stacks the deck in favor of Gurley bouncing back to his usual level of production that we are accustomed to seeing him achieve.
Must read: Todd Gurley Bounce Back Season
Teddy Bridgewater
Quarterback
It has taken some time and bouncing around the league with several different teams for Teddy Bridgewater to finally get a second shot at leading a team. He is projected to be back under center with the Carolina Panthers after proving himself in a short stint while Drew Brees recovered at the beginning of last year. He is on this list not because last year was a down year but more because he is more than likely to be in the top half of the QB rankings. Last year in only 5 starts Bridgewater had his highest passer rating and highest completion percentage in his career. Being able to get healthy was important for Bridgewater but what we can't see in his stats is what he learned about playing the quarterback position from Drew Brees and head coach Sean Payton. Even though he didn't see the field much in New Orleans I'm guessing he is leaving with a greater understanding about how to be successful running an offense. One of the best things Bridgewater has going for him is defenses will be keyed on stopping Christian McCaffrey. Add it all up and Teddy Bridgewater and the Carolina Panthers are going to have success moving the ball down the field. He will be a solid QB2 for your fantasy team if you have the foresight to get him before the season starts.
T.J. Hockenson
Tight End
After week 1 people around the league were praising the Detroit Lions for drafting T.J. Hockenson in the top 10 on the 2019 NFL draft. However, due to learning a new offense, injuries, and the Lions needing to play multiple backups as their starting quarterback, Hockenson finished as the 31st ranked tight end. People always say tight ends need to take more time to develop because of the nature of the position. They need to learn all of the routes. They need to learn the running game because they have to know their blocking assignments on each play. They also need to get their body transitioned from the weight they were able to play at in college to what their NFL team is requiring them to do. Once they feel comfortable putting all their responsibilities together they can take the next step. Even if a tight end takes longer to break out, they usually take a step up in their second year and have better stats. When a player has the skill that Hockenson has and is in an offense that passes as much as Detroit does, that step up is even a little larger. That points to Stafford to Hockenson becoming more common in 2020.
I am a diehard Detroit Lions fan living in enemy territory about 35 miles south of Green Bay, WI. It all started when Barry Sanders got drafted in '89. I have been watching the NFL since I was 11. I've been playing Fantasy Football since you had to wait to get the USA today Monday morning to manually do stats to figure out if you were up or down on points going into MNF. The FF Leagues I am involved with include redraft, dynasty, best-ball, superflex.