Week 4 FanDuel Lineup Tips and Picks
In daily fantasy football, it is essential to find value for your lineups. If we want to be able to afford the top dollar names like Andrew Luck and Le'Veon Bell, we'll inevitably need to balance our lineup with less expensive players who provide upside.
If you're ready to try daily fantasy and haven't signed up for FanDuel yet, now is the time -> SIGN UP HERE and start winning!
If you're new to daily fantasy football or you just need a refresher, please read my NFL DFS strategy guide here: Draft Kings vs FanDuel vs Fantasy Score
In that article, you'll find that there are certain value thresholds that we need from our players in order to win the two main types of contests in DFS: cash games (50/50s and head-to-heads) and tournaments (GPPs and leagues).
For FanDuel cash games, we need our guys to reach 2x their salary (Example: If Andrew Luck is $10,000, he needs to score 20 points to reach value).
For FanDuel tournaments, we need our guys to reach 3x their salary (In this same example, Andrew Luck needs to score 30 points to reach value).
Most of the plays below are for cash games. Tournament plays will have a *GPP ONLY* designation next to their name. Each week, we'll review the previous week's plays and track our success rate for both cash game plays and tournament plays. Our target goal for the season is to hit 60% of cash game plays and 30% of tournament plays. A "hit" is defined as reaching value.
Last week, we hit 5/7 cash game plays (James Starks is omitted since Eddie Lacy was listed as probable on Sunday morning) and 0/2 GPP plays.
Season totals:
Cash game plays: 11/22 50%  | GPP plays: 2/7 29%
Here's a tournament lineup I used last week that utilized a few of our core value plays:
Given the projected game script, Alex Smith was one of my favorite QBs last week. Smith looked horrendous in the first half, but threw often in the second half in an effort to try and mount a comeback. Brandon Marshall was near the top of my projections last week, and despite numerous red zone opportunities, only connected with Ryan Fitzpatrick for 1 TD. 167 is a respectable score most weeks – but week 3 had one of the highest scoring fantasy weeks in DFS history. Three rushing touchdowns from Charles, Kelce's disappointing performance, multiple chances at a multi-TD game for Brandon Marshall, and choosing the wrong defense (New England instead of Arizona at that price point) was the difference between a decent cash and a nice score.
On to the plays!
**Note: This weekend's game between Philadelphia and Washington could possibly be postponed due to hurricane conditions. For that reason, I would avoid all players in that game if you're playing the Thursday-Monday slate.
10. Pierre Garcon
$6100 (WAS +3, 43.5)
Points needed to reach value: 12.2
When selecting WRs for cash games, we are looking for guys who a) command a consistent amount of targets and b) are one of the top options in his team's passing attack. Pierre Garcon fits the bill. He's received no fewer than 7 targets in game in weeks 1 through 3 and is currently the #1 option in the passing game for Washington – he's targeted on 25% of Kirk Cousins' throws. While we'd like his QB play to be a little less erratic, Garcon gets the benefit of playing against the fast-paced Eagles' offense and should see a season-high in the snap count department.
9. Aaron Rodgers
$9200 (GB -8, 48.5)
Points needed to reach value: 18.4
Sometimes, the most expensive players on the slate are values. Rodgers is underpriced here and there isn't much to discuss – he needs just 18.4 points to reach cash game value, a total he's hit 79% of the time since the beginning of 2014. With a team total of 28.5 and facing the 49ers' porous pass defense, Rodgers becomes an easy cash game play. On a side note, this was a fantastic fact that Gil Brandt tweeted this week: Rodgers' counterpart this week, Colin Kaepernick, threw 4 interceptions in 19 attempts last week versus Arizona. Rodgers, meanwhile, has thrown just 4 interceptions in his last 592 attempts!
8. Mark Ingram
$8100 (NO -4, 46.5)
Points needed to reach value: 16.2
Similar to Aaron Rodgers above, Mark Ingram is a relatively expensive option at his position, but he has a fantastic matchup this week. Playing at home versus a defense that allowed three touchdowns and 193 total yards to Devonta Freeman, Ingram should have a chance at multiple scores on Sunday night. Without looking, you may not realize that Ingram is a top-five fantasy RB in 2015 and thanks to his increased usage in the passing game, he offers a very safe weekly floor. With huge upside in this matchup, Ingram becomes a cash game building block for week 4.
7. Devonta Freeman
$7200 (ATL -6.5, 47)
Points needed to reach value: 14.4
Devonta Freeman made an appearance in this column last week and rewarded us with an Atlanta Falcons record for FanDuel points scored in the FanDuel era. The matchup is a little tougher this week, but with Tevin Coleman likely to miss another week with his rib injury, Freeman remains a workhorse back. Now at home and as a near-touchdown favorite, it shouldn't surprise anyone to see Freeman approach his touches total from a week ago (35). It's rare to find a RB who is in line for 20-plus touches, especially at this price point, so have confidence in using him in all formats this weekend.
6. Kirk Cousins
$6100 (WAS +3, 43.5) – *GPP ONLY*
Points needed to reach value: 18.3
So far in 2015, Kirk Cousins hasn't come close to 18.3 FanDuel points in a game. In fact, he's thrown multiple interceptions in 2 out of 3 games, too. So why in the world is he a value play this week? Well, as we saw last week when the Eagles' offense is clicking, it forces their opponent to pass A LOT. Ryan Fitzpatrick had 58 attempts last week and as unfavorable as that would be for the Redskins this week, Cousins has a chance to come close to that total this week. If we can get a QB for $6100 who will throw close to 50 passes, he makes for an excellent upside selection regardless of his talent level. As noted earlier, watch the weather in this game. If it's just rain, I'd still play Cousins. If the wind picks up to 20+ MPH, I'd recommend fading everyone in the passing game.
5. Karlos Williams
$6300 (BUF -5.5, 45.5)
Points needed to reach value: 12.6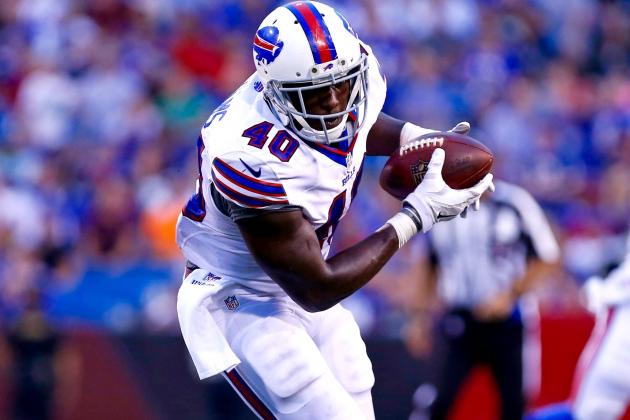 LeSean McCoy is likely to miss this weekend's matchup with the Giants as he will look to rest his hamstring and get 100% healthy. As a result, expect Karlos Williams to receive a healthy amount of action in the Bills' backfield (think Devonta Freeman usage from week 3).
In addition to his workload, Williams is flat-out talented – he's scored a touchdown in each game so far this season. Add in the projected total and gamescript and we have the recipe for a great cash game play for just $6300.
4. Tyrod Taylor
$7600 (BUF -5.5, 45.5)
Points needed to reach value: 15.2
No matter how big of a Tyrod Taylor fan you were coming into this season, very few expected the success he's achieved thus far. Despite only rushing for 12 yards last week – as a good portion of his fantasy value was expected to come from his rushing totals – Taylor still scored 24.28 FanDuel points. With an expected team total near four touchdowns, oddsmakers are expecting Taylor to continue his dominant early season run. This week, Taylor has a great combination of an affordable salary and a high floor, so he's the guy to lock into your cash games if you don't spend up at the QB position.
[wlm_nonmember]
Keep Reading: Week 4 Fanduel Advice
Get the Top 3 Fanduel Sleepers! (Members Only)
Already a Member? Login
Become a member at Gridiron Experts and get the final four PPR sleepers along with insider fantasy info, weekly expert player projections, Live Gameday Chat and direct Email Q&A. Not to mention all our DFS advice, waiver wire tips and Sleepers!
Good News! This is the perfect time to sign up! We have our in-season membership now available at $6.99 for a full season! That's $1.64 a month!
Dominate Your Fantasy League this Season!
Learn More Here
[/wlm_nonmember] [wlm_ismember]
3. Jimmy Clausen
$5700 (CHI +3, 44) – *GPP ONLY*
Points needed to reach value: 17.1
Jay Cutler practiced in a limited capacity thus far this week and while his original diagnosis suggested he'd miss two games, there's a shot he plays this weekend. If he does, then obviously Jimmy Clausen becomes a no-play. But, if Clausen is the starter, he makes for an excellent inexpensive tournament QB. In the short season so far, the Oakland Raiders have allowed 18.86, 22.56, and 20.64 FanDuel points to QBs. Can Jimmy Clausen take advantage of this matchup? It's certainly a risk and it'll take stones to start a QB who scored less than 5 FanDuel points last week. But given the Raiders' ineptitude at defending the tight end position, you can pair Clausen with Martellus Bennett and have a realistic shot of your stack hitting 3x value. .
2. Marvin Jones
$5500 (CIN -4, 45)
Points needed to reach value: 11.0
It looks like Marvin Jones is steadily getting more involved in the offense after he spent most of the off-season behind Mohammad Sanu for the WR2 role in this offense. With his targets increasing every week, Jones finished week 3 with 5 receptions on 8 targets for 94 yards and a touchdown. If you watched Monday night, you'll notice that the Chiefs' pass defense leaves little to be desired. Jones has a great matchup this week and with an inexpensive salary, he makes sense as a WR3 in cash games.
1. Percy Harvin
$5700 (BUF -5.5, 45.5)
Points needed to reach value: 11.4
While Percy Harvin has been disappointing in recent seasons, there is no denying his physical talent. However, maybe offensive coordinator Chan Gailey knows how to use his jack-of-all-trades WR, as Harvin has been a pleasant surprise so far in Buffalo. In FanDuel scoring, Harvin has tallied 17.3, 7.4, and 11.7 points in the first three weeks of the season. He has received at least five targets and at least one rushing attempt  in each game so far. This week, WR Sammy Watkins and RB LeSean McCoy will likely be sidelined with injuries. As a result, Harvin should see more targets in the passing game and will likely see a handful of rushing attempts, as well. Harvin has a high floor AND a high ceiling this week – I'll be using him in cash games and tournaments.
[/wlm_ismember]
If you still haven't signed up for FanDuel -> SIGN UP HERE and join the fun!
For more DFS advice, follow me on Twitter @BrianJesterFF.
Brian has been playing fantasy football for 16 years and commissioned his first fantasy league at age 12. When he's not writing about sports, you can find him playing every daily fantasy sport and participating in high stakes fantasy football contests. Brian won more than 1,000 NFL contests on FanDuel last season and has won multiple league championships in the Footballguys Player Championship contest. A graduate of the University of Maryland, Brian usually spends his winters agonizing over Terrapins basketball. When the weather is warmer, Brian is known for his receiving prowess in flag football leagues on the National Mall in Washington, DC.