Buy Low Targets
The NFL Draft has concluded, the aftermath of the draft has occurred affecting many veterans across the league in both positive and negative ways. While many maintain value from teams doing what is expected before the draft, every year some players dip in value due to teams doing the unexpected. While this is understandable to cause worry with dynasty owners, sometimes there is an overreaction that occurs that causes them to take a major dip from their perspective value. With that occurring, there are players that get forgotten and players that get knocked in value, here are 5 buy low targets:
Todd Gurley
Running Back
Todd Gurley is perhaps the greatest one to start dropping in value after the draft as the Rams traded up to take Darrell Henderson in the 3rd round of the NFL Draft. This, included with Gurley having arthritis in his knee which impacted the end of his 2018 season majorly, is causing many to panic. While to knee arthritis is worrisome, he has an entire offseason to heal and the coaching staff had previously stated that they would be lightening his workload so bringing in a weapon to help do so shouldn't be surprising. Henderson is an explosive running back who averaged 8.1 yards per carry in college and should fit well in McVay's offense. However, don't knock this against Gurley more than what as already done. Few are as efficient as Gurley with the ball in his hands and expect Gurley to handle the goal line touches once again as he has totaled 40 touchdowns over the last two seasons.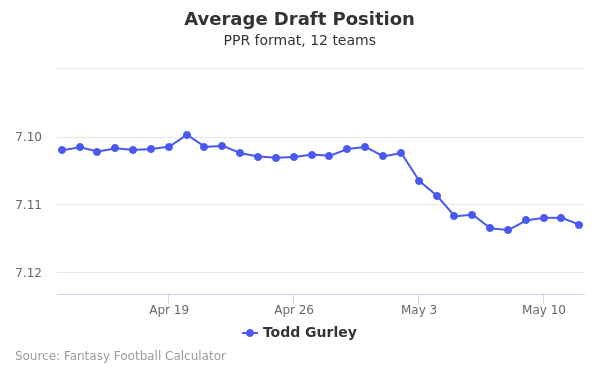 ADP from Fantasy Football Calculator
Kyle Rudolph
Tight End
This one will be very controversial as Minnesota just drafted Irv Smith in the second round of the draft. However, this has caused Rudolph's average draft position to fall to 183 as the TE22 off the board per dynastyleaguefootball.com. This gives you a good opportunity to buy low as there are rumors around the NFL that he may be traded. While there aren't many quarterback's that have utilized the tight end position as well as Kirk Cousins in his career, this would give an opportunity for his value to jump if traded to a spot fans love as well as it being unlikely his value drops much if traded in a less favorable spot. Another way to view this is that even if Rudolph remains in Minnesota, rookie tight ends rarely produce and Rudolph would still be the starter for the next year. Coming off a season where he finished as the te7, even in Minnesota with Irv Smith, Rudolph could still produce another top 12 season for tight ends and is currently much cheaper.
Nelson Agholor
Wide Receiver
While Philadelphia did draft a wide receiver on day 2 of the draft. JJ Arcega-Whiteside looks to be a player that would likely replace or cut into Alshon Jeffrey's role instead. Agholor's their starting slot receiver and that is not expected to change in the near future. With coming off the board as the wide receiver 80 in dynasty leagues, he is practically free. With coming off back to back seasons with at least 60 receptions and 700 yards where he finished as the wr19 and wr40 in 2017 and 2018, buy the production for pennies on the dollar.
Robby Anderson
Wide Receiver
Anderson is a player that is not getting the respect he deserves. After finishing as the wr16 in 2017, Robby finished as the wr37 in 2018, but with a rookie quarterback and missing two games to start the season, it was expected for him to have a drop-off. With him falling to the WR46 with an average draft position of 93, the 26-year-old is someone you should be buying as he will outproduce his ADP. In addition, the Jets didn't spend any draft capital on a receiver and the only major addition in the offseason was Jamison Crowder for their slot receiver role in free agency. Anderson should be in line for a 100 target season as he had in 2017 and was on pace for in 16 games in 2018.
Mitchell Trubisky
Quarterback
In 2018, Trubisky was the QB12 in points per game while missing two games and finishing as the QB14. Although he is currently much cheaper than his production states. He vastly improved over the season and is one of the biggest threats with his legs as he rushed for over 400 yards in 14 games last season. Whether or not you believe he is a franchise quarterback, he produces on the field and Ryan Pace continues to give him every chance to succeed with continuing to add weapons for Matt Nagy and the Chicago offense including running back's David Montgomery and Kerrith Whyte as well as wide receiver Riley Ridley through the draft this year. Another notable part that's not being mentioned is how he produced well in his first year in a highly complex offense in the 2018 season. This year he has an entire offseason to learn the offense and work with Nagy, as quarterbacks typically succeed more in the 2nd year in a new offense (See Matt Ryan with Kyle Shanahan).
Sources:
Thanks for reading