Chiefs Lose Another Offensive Player to COVID Opt-Out
The Kansas City Chiefs lost their right guard Laurent Duverney-Tardif, and now they have lost a key cog in their Super Bowl win as Damien Williams has chosen to opt-out of the 2020 NFL season. In the Super Bowl, Williams rushed for 104 yards and a touchdown while also catching 4 receptions for 29 yards and another touchdown. Both his touchdowns were at critical points. He had the go-ahead touchdown late in the game when the Chiefs were down 20-17. He also scored the backbreaker right after San Francisco's drive stalled late in the 4th quarter, Williams bounced a run to the outside and took it to the house to put Kansas City up for good.
Heading into the 2020 NFL season the Cheifs are currently the top favorites to win Super Bowl 55. Their odds of winning are 6 to 1 with most USA Sportsbooks. The odds didn't change when the Damien Williams news broke, however, in comparison to previous years, +600 is quite high compared to past Super Bowl Favorites. The Patriots were always heavy favorites over the past decade with odds closer to 3 to 1.
Fantasy owners are thrilled of the news that Damien Williams will opt-out, as that gives rookie Clyde Edwards-Helaire a huge opportunity to shine, but before we hop on the hype train, let's look at what Williams was able to do for the Chiefs last season and look at other RB's on the roster or possible players that could get brought in
If Williams's 2020 season was going to be similar to last year, the chiefs will have to replace the following:
| | | | | | | | |
| --- | --- | --- | --- | --- | --- | --- | --- |
| ATT | YDS | AVE | TD | REC | TGTS | YDS | TD |
| 111 | 498 | 4.5 | 5 | 30 | 37 | 213 | 2 |
He only played in 11 games last year due to injuries, but he was reliable during the regular season and in the playoffs. That is what we have come to expect from a running back in Andy Reid's offense. A running back who doesn't tip the offense's hand as to whether they are running or passing because he is versatile. He can carry the ball for a chunk of yards inside or outside. He can catch a quick dump-off pass or move a linebacker out of the middle of the field coverage to open the field up. Or last but not least, he can pick up a blitzing player to give the quarterback that extra 1-2 seconds to get the ball out of his hands. What they will miss the most are these roles in the system that Williams checked off for the offense to roll down the field.
A person might look at Williams's stats and think, well they should be able to spread those touches around and be fine. Maybe they will have to pick up a free agent running back, but they will be fine. You also have to account for the efficiency in the passing game that Williams provided. He caught 30 of the 37 balls thrown his way. That's an 81% catch rate efficiency, not something that can just be replaced with just anyone the Chiefs decide to bring in.
What Fantasy GMs are Looking to Replace
Last year Williams might not have won you your week as Christian McCaffrey did, but he rarely played in a game and did your team in because of a lower than expected production level. To be fair you were not using him as an RB1 like CMC was. Williams wasn't projected as more than a low RB2/High RB3 in most leagues. Whether you started him or flexed him he benefited your team more than he left you high and dry. He scored at least 8 points in seven of the eleven games he played in and he finished the year stronger than he started. Bottom line is that with roster depth at running back you can probably absorb the loss of Williams and start another player or just flex a WR/TE. The downside is it might be a player that isn't in an offense that is as high-powered as Kansas City's.
It is Clyde Edwards-Helaire's Time to Shine
When the Chiefs drafted Clyde Edwards-Helaire with the last pick on Day 1 during the 2020 draft people were saying "the rich get richer". Everyone imagined he would be able to be a great fit into the high powered Kansas City offense after his breakout year on an LSU team that was likewise an offensive juggernaut. Like any rookie, it takes time to acclimate to the speed of the game and physicality of an entire season not to mention a deep playoff push so people have been drafting Edwards-Helaire as a rookie but with high potential. He was being picked around the end of the second round in 12-team leagues which resulted in him being between RB13-RB15. There was nothing wrong with that projection before the week of July 29th, but that's when things changed and the fantasy football world reacted. Damien Williams saying he was opting out of the 2020 season thrust CEH into the starting running back role for the Chiefs in most people's eyes. Since then, he is being drafted in the first round behind only CMC, Barkley, Kamara, Zeke, Henry as running backs and Michael Thomas as a wide receiver.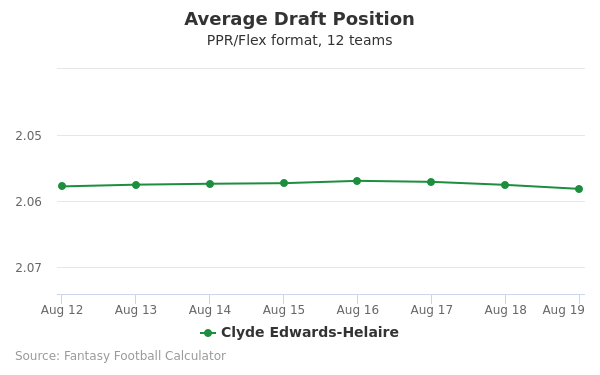 ADP from Fantasy Football Calculator
This means that he is being drafted ahead of several established veterans at both the running back and wide receiver positions. Whether this sudden rise in ADP stabilizes or drops over time or with the signing of a free agent veteran remains to be seen.
Edwards-Helaire replacing Williams's production in his first year might not be as hard as people think. NFL teams like to not overwork rookies but the Chiefs only need to spread around 131 touches. That was Williams's breakout season as far as touches are concerned. That number almost doubles his next highest total. Combine that with his age creeping closer to the magic number of 30 for running backs, this whole situation might just be expediting what was going to happen in the KC backfield in a year or two anyway. If the Chiefs don't do anything of interest to fortify their backfield it could mean they have an abundance of confidence in CEH and they think they will be fine spreading targets around to the rest of their skilled superstars.
Today has been a bit of a sports downer.

Here's Clyde Edwards-Helaire delivering one of the best performances you'll ever see from a college RB.pic.twitter.com/tKRarL9Ywf

— Connor O'Gara (@cjogara) August 1, 2020
Other Options for Depth
Most NFL teams will have to go to the waiver wire to fill in for injuries as the year progresses. this just allows Kansas City to have more options available because it is still early. Here are some of the players that make sense for the Chiefs to look at.
Darrel Williams/DeAndre Washington/Darwin Thompson – there is always a chance that someone on the current roster picks up some of the carries and receptions. It isn't uncommon for someone on an Andy Reid run team to step it up after having a year or two in the system. More unlikely in this case due to Edwards-Helaire's first-round draft status.
Devonta Freeman – The name on everyone's mind as to "when is someone finally going to sign him" is Devonta Freeman. Looking at this scenario it certainly seems like a great match. He fits the role of what Andy Reed will ask him to do in the offense and he can come in not needing to be a savior. A low-pressure situation in an already high powered offense sounds like a perfect way for Freeman to make a comeback.
Lamar Miller – Miller's best days may be behind him but he can run and catch the ball out of the backfield. There is the uncertainty of his health after he tore his ACL and MCL last August, but his name keeps getting mentioned when there are needs in NFL backfields. If healthy he brings a veteran presence to take the load off of Edwards-Helaire until he can handle the load and gain his confidence.
There is also a chance they look to the current roster and spread the touches out to their skilled wide receivers and dominant tight end. In whatever way the team decides to move forward I am sure there won't be too many speed bumps. When you think of Andy Reid offenses, one of the qualities it has is to be able to plug in a similar style player and not have too much disruption with regards to how the team functions. Chances are good they can do it again with most of their superstars intact.
I am a diehard Detroit Lions fan living in enemy territory about 35 miles south of Green Bay, WI. It all started when Barry Sanders got drafted in '89. I have been watching the NFL since I was 11. I've been playing Fantasy Football since you had to wait to get the USA today Monday morning to manually do stats to figure out if you were up or down on points going into MNF. The FF Leagues I am involved with include redraft, dynasty, best-ball, superflex.