Post-NFL Draft Article Written by: Michael Hauff
The Carolina Panthers have had quite the tale of two seasons. In 2015, the Panthers skyrocketed to the top of the NFC before ultimately falling short in the Super Bowl. Last season, the Super Bowl hangover was legitimized as they would never win more than 2 consecutive games for the entire season. There were a couple of takeaways from the Panthers rise and fall. One of those takeaways was that the offense was in desperate need of a spark. Another takeaway was that their star quarterback Cam Newton was in need of some relief. The 2015 MVP has accounted for 45% of the Panthers rushing touchdowns since his rookie season but has been taking a beating in the process. It was with those takeaways in mind that the Carolina Panthers would use the 8th overall pick in the 2017 NFL draft on Christian McCaffrey.
For the Panthers, this truly is a significant change to their backfield. McCaffrey represents the first running back selected in the first round by the Panthers since 2008. He could also become the first player not named Newton, Stewart, or Williams to be the team's best rusher in a season since DeShaun Foster in 2007. While all of this signifies a changing of the guard it is an interesting debate as to what sort of instant impact he may have on your fantasy football roster.
For starters, the former Stanford star could be one of the go-to players in the backfield passing attack. Last season the Panthers backfield accounted for 44 receptions while McCaffrey averaged 41 during his final two years in college. Another glaring statistic out of the Panthers backfield is that two players combined just 5 touchdowns through the air over the last two seasons. The Panthers current disregard of the passing game to the running backs could just be for a lack of personnel but McCaffrey's 8 receiving touchdowns in the last two seasons at Stanford represent a potential new layer to their offense.
What is worth noting in regards to defenses against running backs in the passing game, in 2016, two out of the top three teams in most passing yards allowed to running backs are on the Panthers schedule in 2017. One of those two teams is in the NFC South. If his yards per route stay on par with his college output than his involvement in the Panthers backfield passing attack could produce solid returns for fantasy owners. Considering his impact in the passing game at Stanford, it goes without saying that his value in point per reception leagues is considerably higher than it would be in standard.
The running game itself is what may have some fantasy football enthusiasts feeling a bit apprehensive. The Panthers tend to always be in the top half of the league in rushing attempts but it is how they get there that could be alarming for fantasy players. Last season, Ezekiel Elliot led the league in attempts with 322. The Panthers in 2016 had 346 rushing attempts between five different players. Despite being a run heavy team, 2016 marked the first year since 2011 that the Panthers failed to reach 2,000 yards rushing as a team. This downward trend was also noticeable in their offensive line as Pro Football Focus saw the Panthers offensive line rank go from 6th in the preseason to 17th towards the end of the season. It isn't all bad though as the offensive line received a bit of a boost during the offseason when they signed former Viking Matt Kalil.
Stats provided by: sports-reference.com
Christian McCaffrey Fantasy
Some fantasy football owners may have stars in their eyes in regards to McCaffrey, and that is understandable. With that said though it is important for potential owners to remember that the Panthers way of running the ball was never a genuine attraction. While it is unsure if McCarffrey could physically handle a full NFL workload it is worth noting that since 2003 the Panthers have had just two rushers with 250 or more attempts. His partner in crime in the backfield will be Jonathan Stewart who despite hitting the dreaded 30 years of age mark, finished with the third most carries of his career last season.
McCaffrey will not be a forgotten man on the depth chart by any means but his full ownership of the Panthers backfield may not be immediate and by that, I mean in 2017. Folks should be aware of this if they consider reaching for him in re-draft leagues. In keeper or dynasty leagues, the hype is almost undeniable with McCaffrey. His impact may not be pro bowl caliber immediately but not too far down the line he'll be a solid investment for dynasty players. If you're in one of those types of leagues, it would behoove you to keep a close eye on him early on.
McCaffrey will be the hot name on draft boards during the summer months and it is with good reason. His playmaking ability is enticing, to say the least. If it is a re-draft league, it is important that you don't pass up a more impactful player in 2017 just to say that you're the guy who owns McCaffrey. His impact will only go up for dynasty owners so feel free to fire when ready! It is important for some of the more optimistic people to know that rookies like Ezekiel Elliot do not grow on trees. If you're looking for a running back with 250 or more carries then this rookie is not your guy. In 2017, McCaffrey will hover around somewhere in that RB2 range but he may have some games where he is giving you fits rather than the opposing coaching staff.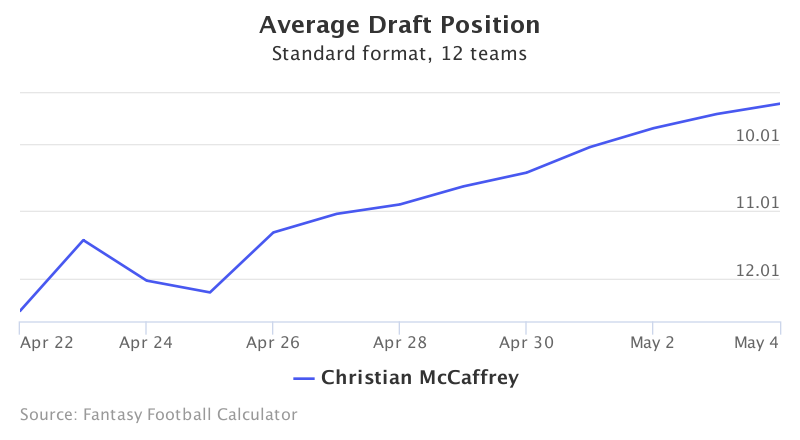 Christian McCaffrey Draft Profile
Pre-Draft Article Written By Phil Clark
Christian McCaffrey has joined Leonard Fournette and Dalvin Cook in a three-player amalgamation of running backs that has ascended into greatest prominence leading up to the rapidly approaching NFL Draft. While Joe Mixon also possesses enormous talent, a well-chronicled off-field incident in 2014 will impede his chances of a first round selection. It is also conceivable that Alvin Kamara could sneak into the initial round, but that should only occur if Fournette, Cook, and McCaffrey are no longer available. Which is why that threesome of has garnered the most conjecture among this year's class of runners. Primarily regarding which team will procure their services, and what they could accomplish at the NFL level. Fournette's standing as a big, fast, physical runner, who will be selected within the initial half of Round 1 has been essentially unchallenged. As has the belief that Cook is tantalizingly explosive, which will compel a franchise to make a first round investment in the former Seminole despite concerns about ball security, injuries, and off-field issues. But there is more uncertainty surrounding the versatile McCaffrey, as the topic of where he will ultimately be drafted has prompted an abundance of opinions. Some observers are convinced that he will be chosen among the top 10 in Round 1, while others are skeptical that he will migrate from the draft board that quickly.
Prior to establishing that he could be a highly effective playmaker at the collegiate level,
Christian McCaffrey
was a two-time Colorado high school player of the year, developed into a four-star back, and was widely considered to be the top recruit from his state in 2014. Primarily because he had already demonstrated the ability to flourish as an all-purpose performer. Not only by lining up in multiple positions offensively, but also through his contributions while playing special teams. The 5'11", 200-pound son of former NFL receiver Ed McCaffrey eventually chose Stanford, and it is difficult to quarrel with the statistical achievements that led to his significant and well-deserved recognition. McCaffrey rushed for an even 300 yards and a 7.1 YPC average as a freshman in 2014 while generating 251 yards and two touchdowns as a receiver. His production skyrocketed the following season when he exploded for 3,864 all-purpose yards, which established a new NCAA record. 2,019 of those were generated on the ground, which represented the second highest total among all backs (trailing only
Derrick Henry
). McCaffrey also manufactured 144 YPG and collected eight touchdowns as a rusher, while supplementing that output with 45 receptions for 645 yards and five additional scores a receiver. Plus, McCaffrey also managed to finish third overall in kickoff return yardage (1,070) as part of that exceptional year. McCaffrey's 2016 season was impacted by injury, prohibiting him from replicating the output that he attained in 2015. Yet, he still amassed 1,913 total yards, bolted for 1,603 on the ground, and invaded the end zone 16 times. During his three seasons with the Cardinal, he ran for 3,922 yards, averaged 6.2 YPC, and produced 21 touchdowns. He also caught 99 passes for 1,206 yards and 10 scores and returned a combination of 90 punts and kickoffs for 1,859 yards, and two touchdowns. In the process, he was allotted nearly 46% of Stanford's offensive workload during the final two seasons of his tenure.
Detailed analysis of high-profile draft prospects nearly always includes mention of their appealing combination of size, speed, and overall athleticism. That mixture of attributes does not automatically apply in McCaffrey's case. However, he does possess an atypical skill set that elevates him beyond a vast majority of this year's rookie class and could propel him into sustained success as a professional. He reads the field effectively and executes his cuts adeptly, which contributes to his ability to change directions fluidly. Although it is his unquestioned versatility that remains foremost among his appealing qualities. He has functioned in one-back and two-back formations, along with his experience working from the slot. The agile McCaffrey's ability to excel while performing in this multitude of roles should create mammoth issues for many defenders. Particularly if his new team possesses the acumen to deploy him shrewdly. His capabilities were fully displayed at the NFL Combine, especially during his impressive performance in the 3 Cone Drill. As he produced the second best time by a running back since 2003 (6.57 seconds). He also finished first among all backs in the 60-yard Shuttle (11:03 seconds), third at his position in the vertical jump (37.5 inches), and fourth in the 20-yard Shuttle (4.22 seconds). He also completed the 40-yard dash in 4.48 seconds, which tied him for fourth among all backs, and was slightly faster than both Fournette and Cook. Plus, McCaffrey presented further evidence of his proficiency as a receiver, by executing routes with effectiveness, and displaying trustworthy hands.
https://www.youtube.com/watch?v=5FllgsGCCvE
Despite the many positive elements to his game, there is concern from some NFL coaches and scouts regarding his viability as an every down back. As the concept of McCaffrey flourishing while taking on a full-time workload seems less realistic than the likelihood that he would perform capably while being placed in multiple, but part-time roles. There is also a degree of consternation about the wear and tear that he has already absorbed. McCaffrey accumulated 731 touches in plays from scrimmage and carried the ball 632 times. Including a whopping 337 rushing attempts in 2015 alone. Also, he managed just 10 reps during the bench press portion of the combine. Which placed him behind 29th among the 30 backs who participated in that drill. However, any trepidation about McCaffrey's ability to succeed at the NFL level should be alleviated by the fact that he has consistently exhibiting the flexibility and elusiveness to generate plays of significance as a rusher, receiver, and returner.
Pinpointing which franchise would be the most likely destination for McCaffrey has become an arduous task in comparison to other members of the 2017 rookie class. The five prognosticators (including me) who participated in the latest
Gridiron Experts Mock Draft
have predicted four different landing spots for McCaffrey – all of which remain plausible. Among the feasible locations are Carolina, even though it currently would require the eighth overall pick of the draft to secure his services. The Panther attack would certainly become more challenging for opponents if he was deployed as a multi-faceted weapon for Cam Newton. That could only help a unit that plunged to 19th in total offense last season, after ranking 11th in 2015. It is also reasonable to envision him excelling within an already potent New Orleans attack, as the innovative Sean Payton would implement McCaffrey's skills while increasing the degree of difficulty for anyone attempting to contain the Saints. Indianapolis ranked 23rd in rushing last season and absolutely must garner another backfield weapon, beyond the seemingly ageless
Frank Gore
. While the 12-year veteran surpassed 1,000 rushing yards for the ninth time in his career last season, he will turn 34 in May, and a continual reliance on him to function effectively in a featured role is unwise. McCaffrey's presence would immediately supply the Colts with another weapon that can supply big-play capabilities. Meanwhile, Philadelphia has provided
Carson Wentz
with two more options that deliver big play potential (
Alshon Jeffrey
,
Torrey Smith
), and adding McCaffrey would fortify and diversify the Eagles' weaponry even further. Plus, it would instantly provide an emerging offense with a younger back, who is capable of exploding for massive gains.
Any apprehension concerning Christian McCaffrey should easily be offset by his numerous strengths. Particularly his aforementioned versatility, which could enable him to thrive as a multi-purpose performer. This provides his new team with the option of exploiting game specific mismatches with opposing defenses, by utilizing him at running back, and lining him up as an X, Y, or Z. Plus, he could ascend into one of the league's more dangerous returners. This ability to operate effectively as a hybrid will also increase the likelihood that he will be employed extensively by the team that ultimately secures him. Making him a feasible fantasy option for owners. Of course, the specific identity of that team will remain unsettled until the draft commences. Once his destination is known, it becomes easier to forecast the extent of his role this season, along with the corresponding expectations that will result. The belief from here is that McCaffrey won't be chosen within the top 10 picks. But he won't fall beyond selection number 25 either. A scenario in which one team moves up to select him during that portion of Round 1 is also very plausible. Once the regular season begins, his vast capabilities should result in a respectable workload, which will enable him to produce dividends for owners that invest in him during the fantasy draft process. If his new head coach or offensive coordinator possesses the expertise to be among the league's more creative strategists, then McCaffrey's usage and output will elevate into the high end of his achievable point range.
Phil is a proud Hoosier, who relocated in Nebraska, and began playing fantasy football nearly 20 years ago. In his first ever draft, he had the third overall pick and selected Barry Sanders. That choice was instantly mocked by several other owners, but Sanders ultimately scored 14 touchdowns and generated 2,358 total yards during an exceptional season. That instantly taught Phil a very important lesson – even though none of us will forecast with 100% accuracy, you should follow your gut instincts whenever you truly believe in a player. Phil began his writing career with RotoWire, later joined Fanball, and has since returned home to the Gridiron Experts. He remains firmly convinced that the key to happiness can be found through a subscription to the Sunday Ticket.