Veterans You'll Overlook for a Rookie in 2017
Everybody loves a good rookie. Fantasy owners more often than not will target rookies instead of veterans due to a possible higher ceiling. However, in the past three seasons at both the running back and wide receiver positions, only seven rookies cracked the top 24 at each position in standard fantasy scoring. Below is the list of rookies that finished in top 24 at their respective positions.
2014 RBs: Jeremy Hill CIN, Andre Williams NYG
2014 WRs: Jordan Matthews PHI, Mike Evans TB, Odell Beckham Jr NYG, Kelvin Benjamin CAR
2015 RBs: Todd Gurley LA, David Johnson ARZ, Jeremy Langford CHI
2015 WRs: Amari Cooper OAK
2016 RBs: Ezekiel Elliott DAL, Jordan Howard CHI
2016 WRs: Tyreek Hill KC, Michael Thomas NO

Fantasy owners must resist the urge to just go after the rookies and end up overlooking the veterans. Here is a glimpse at seven veteran players that will be overlooked because of rookies in 2017.
** ADP in this article was provided by Fantasy Football Calculator
Veteran: Tyrell Williams | Rookie: Mike Williams
Los Angeles Chargers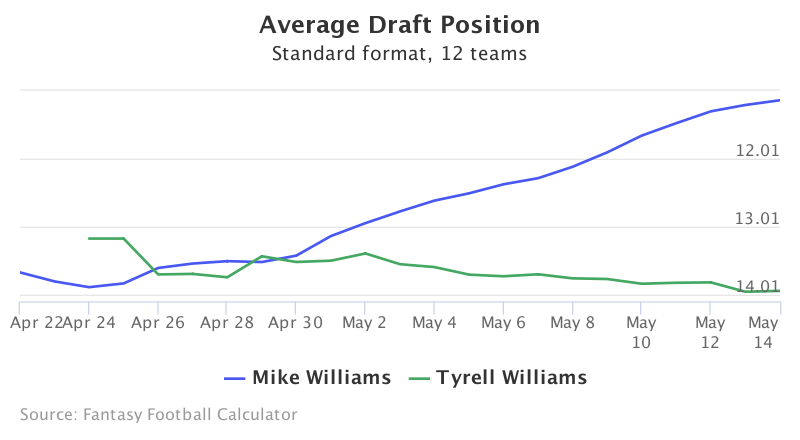 Not sure if there is a cheaper buy in fantasy football than Tyrell Williams right now. Williams had 1,000 receiving yards last year and is going at an average draft position of well…check the graph. The guy is getting no love.
Part of the reason for his significant drop is due to the Chargers selection of Mike Williams with their first round pick. Based on where Mike Williams was selected it's easy to assume the Chargers felt they needed a wide receiver upgrade. Some may disagree, but the team may fear that Keenan Allen will not return to his former self.
In my opinion, Tyrell Williams should not be avoided in upcoming Fantasy drafts. He was one of the few Charger wide receivers that were able to play all 16 games a year ago. He showed tons of promise in his first year as a starter with Philip Rivers and already has shown that he is the big threat target with a team-leading 15.3 yards per reception. Tyrell Williams also lead the team in targets (113) and was tied for second on the team in red zone targets. Rivers loves chucking the ball all over the field even when his receivers are covered which is why Mike Williams is a great fit for the offense, but it will not be at the expense of Tyrell Williams.


Veteran: Latavius Murray | Rookie: Dalvin Cook
Minnesota Vikings
The Vikings paid Murray to be their starting running back and then ended up taking Florida State's dynamic runner Dalvin Cook in the second round of the NFL Draft.
Fantasy owners are assuming Cook will automatically be the starter, however, the rookie had fumbling and pass protection problems. No running back will see the field for the Vikings if they cannot be trusted to pass-block for Sam Bradford. To be frank, his bones are made of glass and Mike Zimmer has already been through losing a quarterback for the season in Teddy Bridgewater last year.
Murray had 40 rushing attempts in the red zone last year in Oakland, seventh most in the NFL. With Asiata gone, Murray will assume his touches near the goal line and Cook may be left competing for snaps on passing downs with Jerick McKinnon. Cook may end up being used more inside the 20-yard lines than Murray, but when it comes to touchdowns Murray will be doing the majority of the damage in 2017.
[the_ad_group id="2923″]


Veteran: Rishard Matthews | Rookie: Corey Davis
Tennessee Titans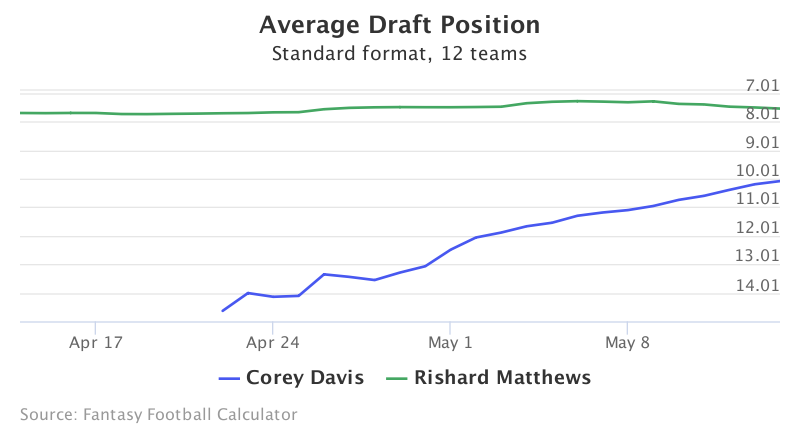 The Tennesse Titans took a shiny new wide receiver with the fifth overall pick in Corey Davis. Davis will excel with the Titans, but fantasy owners must not overlook Rishard Matthews. Matthews last year finished as the 14th best wide receiver in standard leagues, despite having the second-fewest total targets (108) among the top 24 wide receivers. Matthews was also a huge red zone target for Mariota as Matthews tied Delanie Walker for the second-most red zone targets on the Titans in 2017(17 targets). Matthews only started in ten games last year and still managed 945 receiving yards. If the Titans were to pair Matthews and Davis for all 16 games there is a chance they both have very productive fantasy seasons. With Walker turning 33 and the Tajae Sharpe project looking like a potential disaster, it is hard to imagine Matthews without a significant role on the offense. Additionally as talented as Davis is, there is no guarantee that Davis will make an impact right away; rookies need time to develop sometimes, so it may be wise to buy Matthews early on as he already has proven chemistry with Mariota. 
Veteran: Brandon Marshall | Rookie: Evan Engram

New York Giants
The two biggest offensive weapons that the Giants have added this off-season are Brandon Marshall and rookie Evan Engram. Marshall has claimed that he is going to retire in the next two years and Engram is a glorified wide receiver playing "tight end." They are both big receivers that are definitely going to be red zone targets for Eli. Marshall, however, will have more success than Engram in 2017. For starters, Brandon Marshall excels in his first year with new teams. In his first seasons with Miami, Chicago, and New York, Marshall averaged 1,341 receiving yards, 104 receptions, and 9 touchdowns. Call it Marshall's honeymoon phase. Then looking at how rookie tight ends end up finishing well… in the last 17 years, only three tight ends have scored more than five touchdowns. Those tight ends were Rob Gronkowski, Aaron Hernandez, and most recently Hunter Henry. Marshall has also played much better when there have been talented receivers around him. In 2013 and 2015, Marshall played with Alshon Jeffery and Eric Decker respectively, who both amassed over 1,000 yards in two of Marshall's best seasons. Fast forward to 2017 where Marshall will be playing alongside arguably the best wide receiver in the game in Odell Beckham Jr. Marshall will get to be a complimentary wide receiver for one of the first times in his career which will leave him single covered. Do not sleep on Marshall this season just because the Giants acquired a dynamic rookie tight end who is just a "wannabe" wide receiver


Veteran: Spencer Ware | Rookie: Kareem Hunt
Kansas City Chiefs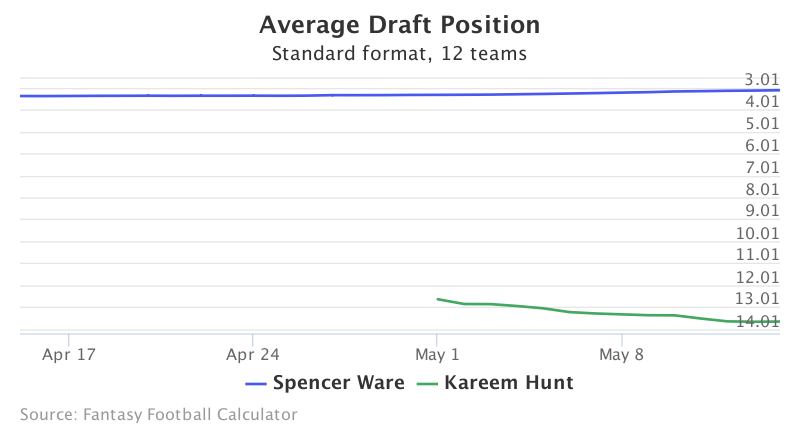 Spencer Ware is another guy whose fantasy stock has seemed to also fall since the Kansas City Chiefs traded up to draft Kareem Hunt in 2017 NFL Draft. Ware was solid in 2016 finishing as the 16th best running back while only playing in 14 games. Ware was productive as both a runner and a receiver as his 97.7 yards per game from scrimmage ranked eighth among all running backs. Andy Reid has traditionally loved having running backs that possess that dual-threat ability to be a factor in both the passing game and running game. Hunt has also shown that he can be a pass catcher as well though, as he had 41 receptions his senior year at Toledo. However, even if Hunt is able to surpass Charcandrick West on the depth chart and eat into some of Ware's passing targets, Ware has a great floor with the touches he gets in the red zone. In the 14 games that he played, he had 59 percent of all the rushing attempts inside the red zone. The next closest player was West who had a whopping total of five attempts inside the red zone before Ware was forced to miss games. Hunt is a nice addition to the Kansas City backfield, but by no means should it force fantasy owners away from Ware. This is definitely not a buyer beWare situation.
– Check Out The Latest Gridiron Experts Podcast –


Veteran: Rob Kelley | Rookie: Samaje Perine
Washington Redskins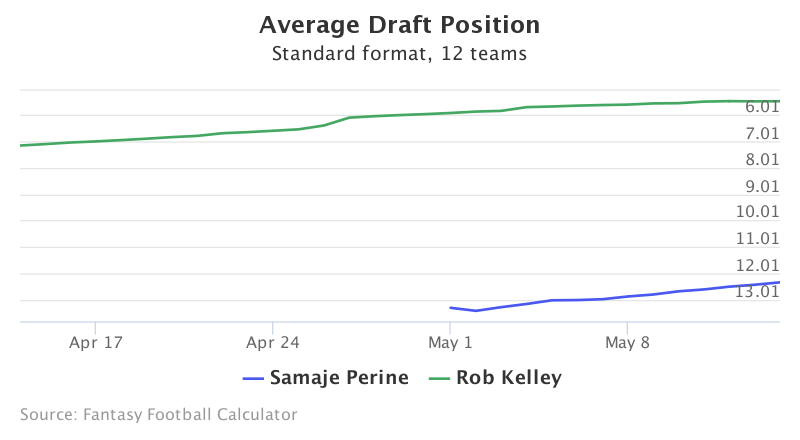 There is a reason why Rob Kelley became the starter over Matt Jones last year. Fat Rob on 168 carries did not have a single fumble. To be the starting running back in Washington the player cannot fumble the ball: plain and simple. Kelley showed last year that he can protect the ball and also produce as a running back. Samaje Perine did not show fumblitis in college, but many rookie running backs do struggle to hold onto the ball when they first enter the NFL. Ezekiel Elliott led the league in fumbles, for example, so even talented rookie runners still need to adjust their ball-handling skills to NFL defenses.
Kelley (6 feet, 228 lbs) and Perine (5 feet, 11 inches, 232 lbs) will be competing for snaps on first and second down because Chris Thompson has solidified himself as the third down running back. Kelley only had nine rushing attempts on third down last year. Neither Kelley or Perine will be a three-down back in Washington next year, but Kelley should be the target for fantasy owners. If he had been starting from the beginning of the season there was a very good chance that he would have broken the 1,000-yard rushing mark. However, everyone must realize that Perine is definitely a more talented back then Kelley; just look at each of their college pedigrees. Perine is the all-time leading rusher at Oklahoma and Kelley never had more than 500 yards rushing in a single season at Tulane. But because Washington is a pass-first offense, Jay Gruden may just want his running back to do enough and not fumble. An argument could be made that Matt Jones was much more talented than Kelley, but he had fumbling issues and has been riding the pine ever since. Gruden will give the running back he trusts the most the ball. Kelley has many similarities to another running back Gruden coached while in Cincinnati: BenJarvus Green-Ellis. Green-Ellis was great with ball security and averaged 249 rushing attempts in his two years with the Bengals. He was eventually edged out by a more talented Giovani Bernard, but not until Bernard's second season with the team. Perine has a shot to be the starter in Washington, but as long as Kelley continues to hold onto the ball, he will continue to hold on to the starting job. As for Perine well…you cannot spell Perine without pine.


Veteran: Cameron Brate | Rookie: O.J Howard
Tampa Bay Buccaneers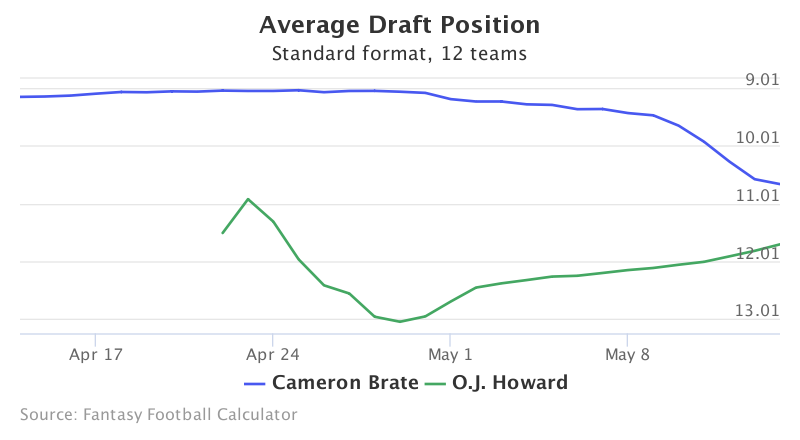 Cameron Brate might be the most overlooked veteran on this list. Just looking at the graph shows how much faith the fantasy community has lost in Brate ever since The Tampa Buccaneers selected tight end O.J. Howard in the draft. However, there are many factors that need to be looked regarding the addition of Howard and his impact on Brate. First off, the Buccaneers love to utilize tight ends. In 2016, Brate played in 62.3 percent of offensive snaps, Brandon Myers in 35 percent and Luke Stocker in 28.2 percent. Additionally, Brate already has great chemistry with Jameis Winston. Winston had the highest completion percentage (68.6) to Brate over any other skill position player with at least 35 targets on the Buccaneers. Winston also had the second highest completion percentage (63.16) to Brate in the red zone out of all NFL players who had at least 19 red zone targets. Not to mention Brate also caught ten touchdowns, something Howard never even came close to in his collegiate career. Howard only caught seven touchdowns in four years at Alabama and rookie tight ends tend to not make an impact until their second or third years in the NFL. Howard is obviously the guy to target in a dynasty, but in standard re-drafts Brate can be a sneaky tight end that can provide value later in drafts.
Jeremy Hill & Giovani Bernard | Rookie: Joe Mixon
Cincinnati Bengals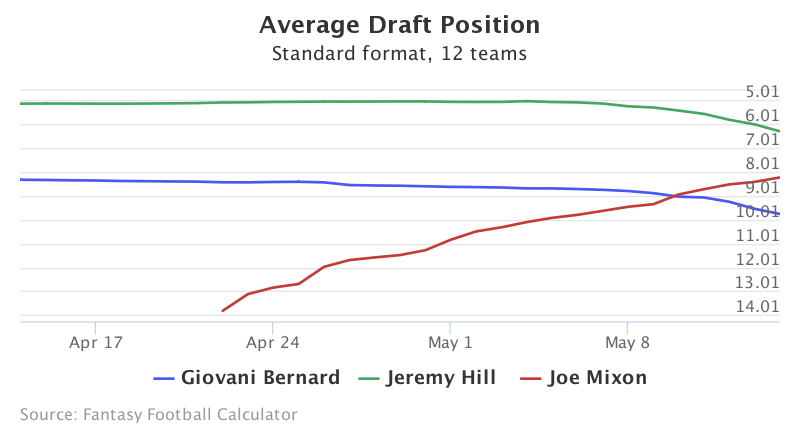 There was only going to be seven veterans on this list, but it just did not feel complete without everybody's favorite running back: Jeremy Hill. Hill has all but been forgotten as the starting running back in Cincinnati after the Bengals drafted Joe Mixon. However, it is important to point out that Mixon is still a rookie and though others may disagree he will have to earn his role on the team; especially in regards to earning the respect of his teammates. It is also worth noting as a nice nugget of information that Jeremy Hill was the only running back in the NFL last year that had over 200 carries and did not fumble once. While in college Mixon fumbled six times and where this can be possibly fixed in the NFL it may take some time. Hill has never been able to match what he did on the field in his rookie season, but remember this guy has still averaged 10.5 touchdowns over the past two seasons and has never finished outside the top 20 at the running back position. Last year, he also was fifth in rushing red zone attempts and scored of eight of his nine touchdowns from inside the 20. So even if Hill struggles in between the 20s, he will still be a viable fantasy asset from between the 20-yard line and the end zone. Hill has also been extremely durable in his career missing only 1 game in his first three seasons. It is hard to not buy into Mixon becoming the presumed starter, but it would not surprise me if Hill just continued to receive carries. It is a contract year for Hill as well, so he may be extremely determined to play well because he knows that he might be wearing a different uniform in the next season. Mixon may be facing more of an upHill battle than most fantasy owners think not to mention Bernard is still in the picture coming back from his injury.