Five Sleeper Defenses 
For those fantasy owners who put little time and effort into securing a top fantasy defense, rest assured I'm here to help. In fact many owners love to stream defenses as it gives them the advantage at finding value on a weekly basis.
With that being said, there is also a higher level of risk in streaming defenses. Yet, picking up a gem at the right time can be the difference in winning your week, not to mention adding a cheap value pick in Fanduel or Draftkings.
They say defense wins championships, here are 5 defenses that are more than likely available in your league and that would also make an excellent option for your daily lineup.
1. Green Bay Packers
Packers at 49ers
The Green Bay Packers are taking on the worst ranked offense in the NFL, the San Francisco 49ers. Last week we saw an Arizona Cardinals defense absolutely destroy the 49ers offense in a very unwatchable game. The Card's were able to pick off Kaepernick three times in just the first half, finishing the day with 4 total interceptions for the game. The Packers may not exactly replicate the Cardinals output from last week, but with a turnover prone quarterback, the Green Bay secondary is in line for a big day.
Green Bay currently is tied with the Denver Broncos and ranks 3rd in the NFL in total sacks, and the front 7 for Green Bay will be flying around causing havoc in the backfield with constant pressure. As of right now, the Packers are only owned in 55% of ESPN leagues.
If your defense is currently on a bye week or you simply just need improvement for week 4, go pick up Green Bay. On FanDuel the Packers cost $4,700, which is $1,966 under the average price per position. DraftKings has the Packers listed at $2,700, currently $2,855 under their average of $5,555 per position. I predict the Packers finish around 12 to 14 points this week, providing an excellent daily option.
2. Indianapolis Colts
Jaguars at Colts
The Indianapolis Colts had a decent showing in week three as they played the Tennessee Titans, and posted 9 fantasy points in standard scoring leagues. The reason they make the list of potential breakout defenses this week is because of their opponent, the Jacksonville Jaguars. Within the last 48 hours, their ownership percentage in ESPN leagues has gone up 16.6%, from 33.8% to 50.4%. This increase is strictly because of whom they are playing as the Colts rank 21st in sacks and are in a 7-way tie for 10th place in interceptions. They also struggle in defending the pass and stopping the run, ranking 21st in both categories.
I am not predicting a huge point total from them this week, with the ceiling around 12 or 13 points. If you are looking for a better matchup than what you currently have or are in a deeper league, the Colts could be a solid start this week. In terms of daily leagues, FanDuel has Colts only having $4,400 cap hit, allowing for greater spending elsewhere. DraftKings price the Colts at $2,800. With a favorable matchup at home this week, the Colts could be a great play for your daily lineups. I predict they will get around 10 points, but I won't be surprised if they out-do that.
3. Philadelphia Eagles
Eagles at Redskins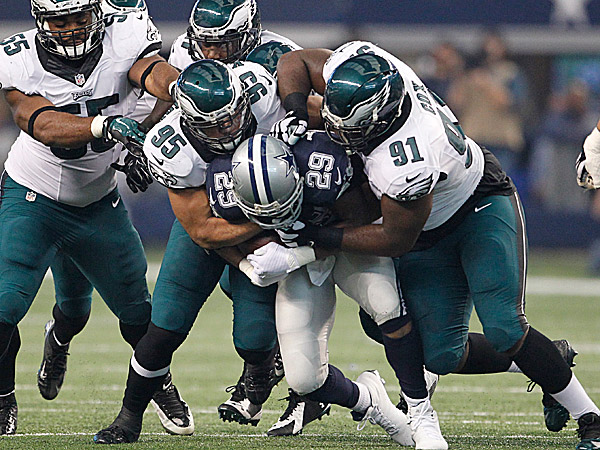 The Eagles are making this list for a few reasons. Similar to the Colts, they have a favorable matchup in Washington (the Eagles refuse to say Redskins), and they are fresh off their best performance all year. Washington has a solid rushing attack, however their passing game is weak, ranking 21st in the NFL. The Redskins also only rank 26th in points per game. With an overall struggling offense that fails to produce points, and an Eagles defense coming off their biggest fantasy outing this year, I am expecting a big game from the Eagles' defense.
They are more commonly owned now in standard leagues after their 16 points last week, but they are still available in nearly 40% of ESPN leagues. The Eagles also provide an adequate option for daily leagues as well. On FanDuel, the Eagles cost $4,500 and on DraftKings are listed at $2,700. I am predicting the Philadelphia Eagles finish with around 13 to 15 points this week, and a possible shut out vs. the Washington offense.
4. Oakland Raiders
Raiders vs. Bears
The Oakland Raiders defense is slowly beginning to make some noise this season, and could look to build off a solid week 3 showing vs. the Browns where they sacked the quarterback 5 times, got an interception, and held the Cleveland running game to only 2.8 yards per carry. The Raiders tied for 2nd in tackles for a loss last week with 8. The Raiders also finished in 2nd with 12 quarterback hits. In week 4, I am predicting the Raiders defense to dominate the course of the game.
With Alshon Jeffrey out with a bad hamstring and Jay Cutler who is also dealing with a messed up hamstring, Oakland will be able to fill the box and bring constant pressure. If Jimmy Clausen is the game day starter, I strongly suggest the Raiders as a free agency pick up, as they are only owned in 6.2% of ESPN leagues. The Raiders will even make a great daily option as they are listed at $4,500 on FanDuel and on DraftKings are $2,600. Even if Jay Cutler and Alshon Jeffrey play, they will obviously not be 100% healthy, and the only real player of concern would be Matt Forte, but the Bears will likely be playing from behind in this game, minimizing the running game. I predict the Oakland Raiders' defense to get in the range of 13 fantasy points in standard scoring formats, and to outdo their 5 sack performance last week.
Deep Sleeper
5. San Diego Chargers
Browns at Chargers
Back in week 1 it took the Chargers defense a little bit of time to wake up and play to their full potential, as they allowed 3 touchdowns in the first half and went on to hold the Lions to only 7 second half points. A bright spot for San Diego was their secondary as they picked off Matthew Stafford twice and held Calvin Johnson and Golden Tate to only 6 catches, generating only 63 yards between the two. A struggle the Chargers faced in week one was stopping the tight end, as Eric Ebron had over 50 yards receiving and a touchdown. Weeks 2 and 3 however, did not show too much promise as Andy Dalton ripped apart the secondary, tossing 3 touchdowns and no interceptions and troubles covering the tight end continued as Tyler Eifert had 49 yards and a touchdown. The following game in week 3, the secondary was back to looking dominant not allowing a touchdown pass and coming away with 1 interception, but the run game was non existent, as Adrian Peterson ran for over 120 yards and 2 scores.
The inconsistency from the Chargers so far this season is why they are my deep sleeper for week 4, and due to the success Cleveland opponents are having thus far, is why I am optimistic the San Diego defense can produce. With Cleveland opponents averaging 7 hits on the quarterback, 6 tackles for a loss, and getting around 3 sacks per game, San Diego has the potential to be a solid play in standard and daily leagues. On FanDuel the Chargers cost $4,400 and DraftKings they are listed at $2,800, and in traditional leagues they are owned in only 5.5% of leagues.
From a small town called Placerville in northern California and I am the youngest out of my five siblings. Currently attend William Jessup University, in Rocklin California, where I am studying to get my degree in English with a concentration in professional writing. I am very avid about my work in sports journalism and strive to deliver the best possible content to my readers. This year will be my first year working with the William Jessup University Athletics Department, where I will be assisting with stat keeping, photography, other game day events, as well as color commentary for the Warriors 2015-2016 men's basketball, women's basketball, and women's softball teams. Having the opportunity to share my insight about sports with fellow fans is a dream come true and I hope you enjoy my content. Feel free to leave a comment or critique on my work; I greatly appreciate all fan interaction and involvement.