Ridiculous, Yet Hilarious Super Bowl Prop Bets
The Super Bowl is big for so many reasons. The players and fans of both teams have their hearts set on being Super Bowl Champions, but there are so many other elements to Super Bowl Sunday. Companies of all kinds dump millions into advertising to capture the world's attention in hopes of selling their product to the public. This year, a 30-second ad spot at Super Bowl LIV is $5.6 million, which is an increase of $500K from last year's game. For comparison, the average price of a 30-second ad during Game 7 of the 2018 World Series was just $500,000, while the price for a 30-second ad at the 2019 Oscars cost $2.6 million.
Usually, there are a few big movie trailers that try to kick off the year by building hype for the hottest must-see blockbusters. The art form of a "Must-See" movie trailer can't be denied these days, yet spending millions of dollars to miss the mark can be crippling. Let's also not forget about the bars, pubs, and restaurants that fans will be attending all over the world; each host location will have a chance to pull in their biggest single-day earnings of the year.
Yet the real hidden gem of this yearly mega-event doesn't come with a side of fries.
I'll admit it: I drop more cash on food, beverages, and "friendly wagers" on Super Bowl Sunday than any other NFL day of the year. But for the big-name online sportsbooks or Las Vegas Casinos, money trades hands like you could only imagine. With bets as crazy as calling "Heads or Tails" for the game's kickoff, you know if you look hard enough, the insane prop bets will surely be worth a laugh.
However, this is a fun article pointing out some hilarious Super Bowl Prop Bets. I'm not suggesting you should bet any of them. If you do sign up, please use your game sense, and bet responsibly. I researched many providers to bring you these top 10 funny bets for a laugh.***
1. The Total Number of Donald Trump Tweets on FEB 2rd?
Odds:
Over 13.5 (+130)
Under 13.5 (-170)
My Thoughts:
Can you believe this same bet last Super Bowl was Over/Under 6 tweets… yikes.
Usually, these types of special prop bets are hard to gauge, but this one is easy to keep track of. Check-in throughout the day for any random tweet from Trump on Twitter and you win…or lose.
As for trying to strategize on the outcome of Trump tweeting, it would be impossible to predict. The history of Donald Trump and his beef with the NFL goes all the way back to 1983 when Trump bought the New Jersey Generals, a team that he was rumored to have lost roughly 22 million dollars on. He also seems to have upped his twitter game in the last month.
On a side note: Did you know you can block politics altogether from Twitter? Go into your Twitter Settings > Content Preferences > Muted > Muted Words and you can add words that will be blocked from your twitter stream. I did this a while back and Twitter has been more enjoyable.
My Pick: Under
2. Will a Player Leave The Game and Not Return Due To Concussion Symptoms?
My Thoughts: What a creepy bet!?! Seriously, who places money on rooting for brain damage? Imagine being at a Super Bowl party and hearing someone talk about this: "Yeah I got money on the 49ers, the MVP, the coin toss, oh and $50 on someone drinking their meals through a straw for a week"
I'm going to say "No" to this prop bet, for the well being of the players in the game and to hope this bet doesn't get traction.
My Pick: NO
3. Will Any Scoring Drive Take Less Time Than It Takes Demi Lovato To Sing The Anthem?
My Thoughts:
This is a fun twist on a very common Super Bowl Prop Bet which is usually just how long will the National Anthem of the Super Bowl be. But this takes the time of the song and applies it to a scoring drive. I kinda like this new concept. So let's talk this out: The odds for Demi Lovato to sing the anthem are 1:55, but she can really belt it and may stretch some of those long notes an extra few seconds. So let's say she takes 1:58 to sing the Anthem. While the 49ers do have an excellent defense and should look to slow the Chiefs offense this Sunday, let's not forget that Patrick Mahomes and company came back from a 24-0 deficit to score 28 points in just one quarter against the Texans. They had multiple quick score drives just a few weeks ago. A drive lasting less than two minutes is very likely.
My Pick: YES
4. Which Company Airs the First Commercial After The Coin Toss?
Odds:
Bud Light:15 to 1
Budweiser: 15 to 1
Coke: 19 to 1
Hyundai: 19 to 1
Skittles: 19 to 1
Mars/ M&M's: 24 to 1
Kia: 24 to 1
FIELD: 2/3
My Thoughts: I can't imagine any company wants to go first when spending $5.6 million dollars on a 30-second ad spot. Is there a good time slot to pick? Does being first out of the gate really give you the edge? – I don't know.
Also, are all these companies confirmed as ad buyers for the Super Bowl? Do we know for sure Skittles bought an ad spot? How the hell do they have $5 million dollars to blow on one commercial? Seriously, like what's the profit margin on one bag of Skittles? $0.50? They'd have to sell ten million packs of skittles just to break even. At least a company like Kia would only have to sell a couple hundred vehicles nationwide to break even. What a silly Super Bowl prop bet, this seems like one to avoid. I'm confident a car commercial goes first, but I'm not sure which one.
My Pick: FIELD
5. Which Coach Will Be Mentioned First On TV After Kickoff
Odds:
Andy Reid (-155)
Kyle Shanahan  (+115)
My Thoughts: I feel like there is more to talk about when it comes to the Chiefs offense. It's an all-star cast of talent with a superstar QB. While Jimmy Garoppolo is no slouch, after taking a backseat to the running game in the NFC Championship he isn't the focal point of the offense. So, with that being said, I think Kyle Shanahan will be mentioned first if the 49ers start with the ball on offense first. If the Chiefs start with the ball first, I think the talking point might be something about how the Chiefs have started cold in their previous two playoff games, only scoring 7 points in both games in the first quarter combined. My money is on the 49ers coach
My Pick: Shanahan
6. Number of Women to Claim Sleeping with Jimmy G During Super Bowl Week
Over 1 (+110)
Under 1 (-150)
My Thoughts: The odds for the over are hilarious, cause it's not one woman, it's "over one." So two (or more) women need to claim they slept with Jimmy G this week, then somehow prove it so the sportsbook will payout +110. I mean, considering how ridiculous this bet is, the under isn't too bad of a bet. Not that I don't think Jimmy G can get women, it's just the fact that I know how sportsbooks work and a couple of random tweets about hooking up with the 49ers starting quarterback isn't going cut it.
My Pick: Under
7. What Color will the Gatorade (or liquid) be that is dumped on the Head Coach of the Winning Super Bowl Team?
Odds:
Orange +400
Clear/Water +300
Yellow +300
Red +150
Blue +750
Purple +1800
My Thoughts:
I think what's really funny about this bet is the fact that these odds have changed from last year's game. I checked last year's article and there were better odds for Blue Gatorade. Does that mean I think it's a better bet? No. Betting on the color of a sports drink is just stupid.
My Pick: Red seems like an easy bet this year… right?
8. Will Troy Aikman Mention His Past Super Bowl Experiences?
Odds:
My Thoughts:
I can't believe it's a Yes or No question. I thought it would be how many times he mentions the old days. Aikman as an announcer in the Super Bowl is an easy two-story "back in my day… blah blah blah" kind of bet.
My Pick: Yes
9. Will Any Player Finish With Exactly 69 Yards?
Odds:
My Thoughts: I can't believe this is a bet lol, they even made the payout +690. Did Sportsbooks put a 14-year-old boy in charge of their Super Bowl Prop bets this year?
If you're curious, there have been two players in the NFL playoffs this year that have finished the day with exactly 69 yards: Eagles Miles Sanders against the Seahawks and Derrick Henry vs the Chiefs. Considering there is a chance that we could see at least 6 to 8 players in the 60 to 100-yard range, it's not an awful bet, but obviously your odds are slim to none.
I'm leaning more towards goofy Super Bowl Prop bets just for the fun of it this year, this might be one that's worth throwing a few bucks on.
My Pick: Yes
Where Can I Bet This?  – MyBookie.ag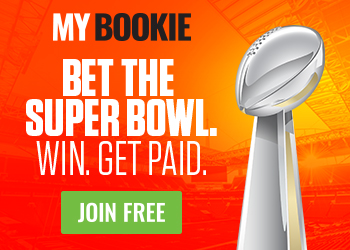 10. Who will the Super Bowl MVP of the Game thank first?
Odds:
Teammates 3 to 2
Coach  12 to 1
Family 12 to 1
God 3 to 1
Owner 12 to 1
Does Not Thank Anyone 5 to 2
My Thoughts:  I wish there was an option for the Super Bowl MVP to thank himself, that would be so funny. Of course, Mahomes or Jimmy G would never do that, they are very team-oriented quarterbacks.
Realistically you have to think whoever wins will thank either God or his teammates first. Two years ago I remember thinking Foles would Thank God first, but this year neither QB comes across as very religious.
My Pick: Teammates
If you find any other funny Super Bowl Prop bets, leave a comment below, I'd love to hear from you.
Thanks for Reading!
James is a diehard fantasy football fan who has been playing for over 20 years. He doesn't have a favorite team, mainly from moving around a lot when he was a kid. This has to lead to many fantasy championships as James drafts with his head, not with his heart. James also plays heavily in Dynasty Football and loves DFS and Picking games. He's excited to see where he can go writing for Gridiron Experts